SOLD Antique 18th century American Revolutionary War Holster For A Flintlock Pistol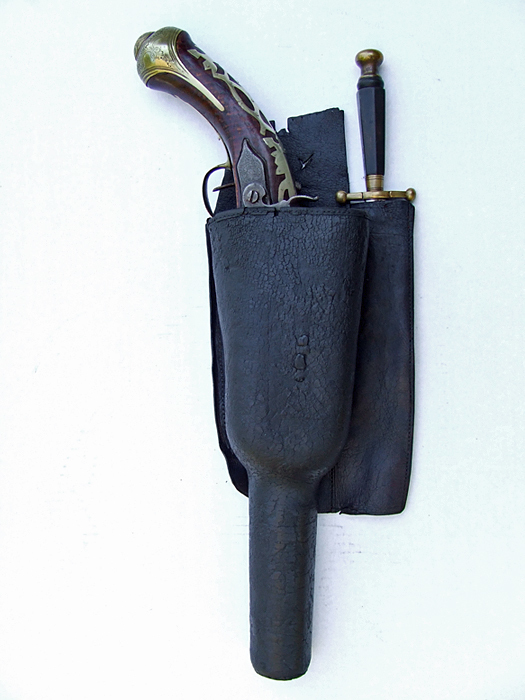 SOLD Antique 18th century American colonial holster for a flintlock pistol from the period of time of the Revolutionary War. The bucket is made of thick hand stitched formed leather, backed by the base made of thinner leather with a stitched compartment on the site, possibly for the dagger. The edge of the upper flap is pierced with holes and was possibly was sewed to the belt. In the 18th century most of the holsters for pistols were imported to America from Europe particularly from England and France; these holsters are a better quality than locally made American holsters, the European import holsters were fitted at the front with leather or a fabric flap and the brass cap at the bottom, they are made as the double saddle holsters. However, the workmanship of this holster is obviously an impeccable make by a very skillful and experienced craftsman. The compartment beside the bucket and the shape of the flap which indicate that the holster was possibly carried on the belt instead of being mounted to the saddle, these features make this holster a very rare compare to the other 18th century holsters.

REFERENCES: A similar in style holsters described as American are published in the book, Collector's Illustrated Encyclopedia of the American Revolution: by George C. Neumann, Frank J. Kravic (Page 145, No 4).

CONDITION: Generally good condition, showing age and usage, leather with surface cracking overall and with small cracks and tear. All of this is an aspect from an antique leather holster that is over 240 years old.

MEASUREMENTS:


Overall length including the upper flap: 41 cm (16.14 inches)
Overall length of the bucket: 33cm (12.99 inches)
Width of the leather base: 15.5 cm (6.1 inches)
Length of the dagger compartment: 22.5 cm (8.86 inches)
Width of the dagger compartment: 6 cm (2.36 inches)

THE PISTOL AND THE DAGGER, WHICH ARE IN THE PICTURES, ARE PROPS AND ARE NOT INCLUDED WITH THE HOLSTER.