SOLD Antique 18th Century Naval Signal - Saluting Cannon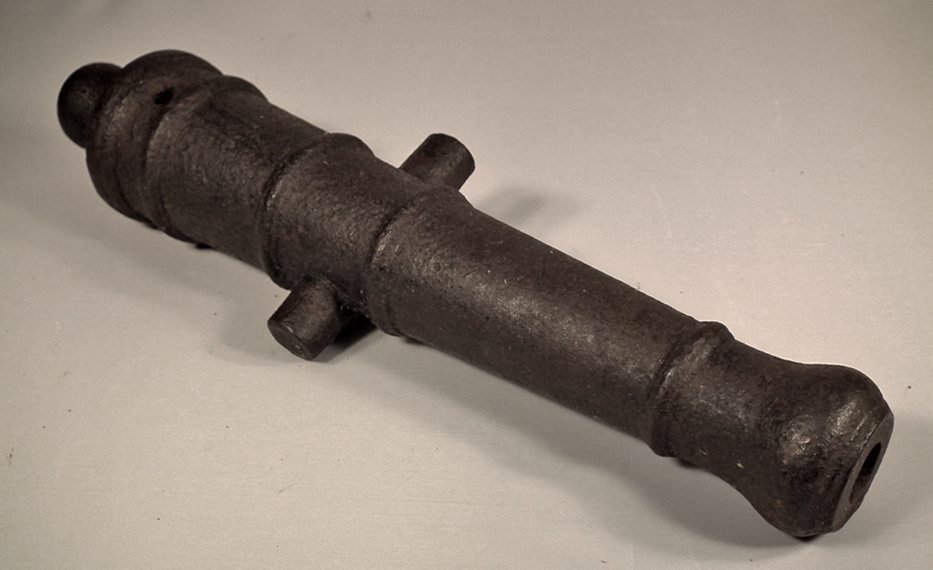 SOLD Authentic Antique, 18th century, Naval signal - saluting cannon, tapering multi-stage iron barrel, swelling towards the muzzle, with pronounced raised mouldings, a pair of plain trunnions rounded cascabel drawn – out to an oval button.
There are some markings on the top of the cannon, below the vent, also underneath, between the trunnions, there is a casted round medallion, however, due to the rusty surface of the barrel, it is poorly visible.
MEASUREMENTS: Overall length: 34.5 cm (13.58268 inches).
CIRCUMFERENCE of the base ring: 7 cm (2 3/4 inches).
Diameter of the bore: 18 mm (0.708661 inches).
Depth of the bore: 26 cm (10 1/4 in).
Overall length of the trunnions: 9.5 cm (3 3/4 inches).
CONDITION: In its original untouched condition, showing the age and usage, slightly pitted overall.