SOLD Antique 18th Century Greek Post-Byzantine Orthodox Triptych Nativity Icon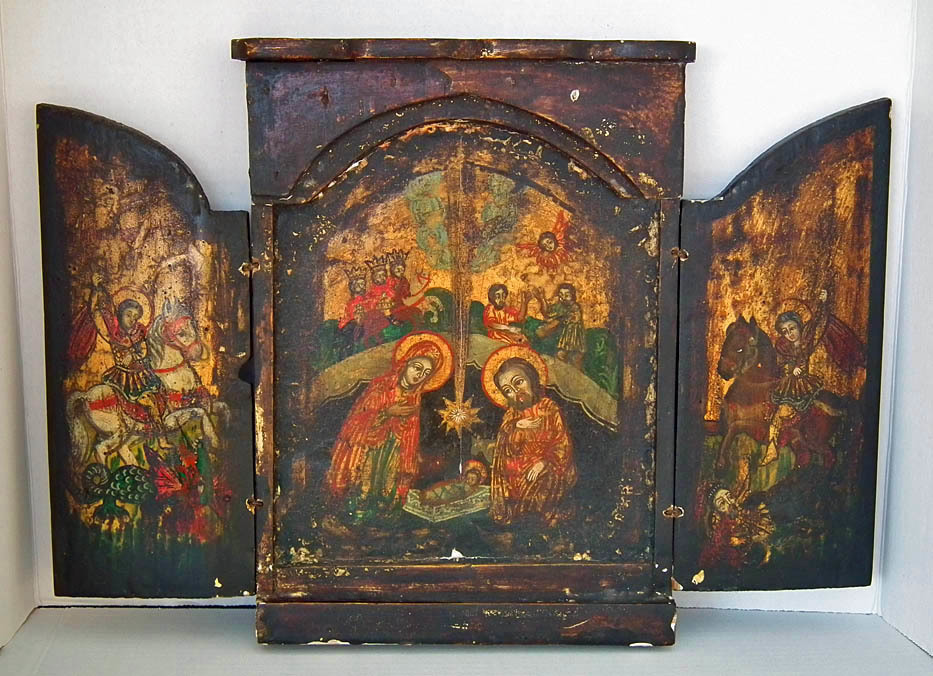 SOLD Large Antique, ca.18th century, Greek orthodox triptych, Post-Byzantine; Venetian-held territory, most likely Corfu in the Ionian Islands., depicting the most central event in Christianity Nativity of our Lord Christ.
The carved arched central panel, painted in bright colors, and gold on gesso and wood depicting Baby Jesus laying in the cradle in a manger wrapped in swaddling clothes with a Bethlehem star shining from above, flanked by Virgin Mary and St Joseph. The left upper part painted with three kings on horseback traveling in search of Jesus. The left side shows the shepherds, and a red-winged angel looking down from above announcing the birth of Christ. The left wing showing Saint George slaying the dragon. The right wing showing St. Demetrius of Thessaloniki, on horseback, wearing elaborate armour of Byzantine type, holding a spear in hand and slaying the king of the infidels who lies on the ground below.


CONDITION: The icon is in the original condition, with wear and nice old, very dark patina, some flakes, and old cracks in the wood. Free of repaint, repairs or restorations.
MEASUREMENTS: Open: 47 cm x 33.5 cm. (18.5 inches x 13.19 inches). Closed: 30.5 cm x 24.8 cm (12.01 inches x 9.76 inches).

The Nativity has adopted Italian iconographic features which make it clear that the painter of the triptych was following a tradition which had been formulated in a Venetian-held territory of Greece, such as Crete, or the Ionian Islands (Corfu, Zante, etc.).