SOLD Antique 18th-19th century Chinese Qing Dynasty Damascus Steel Sword Luyedao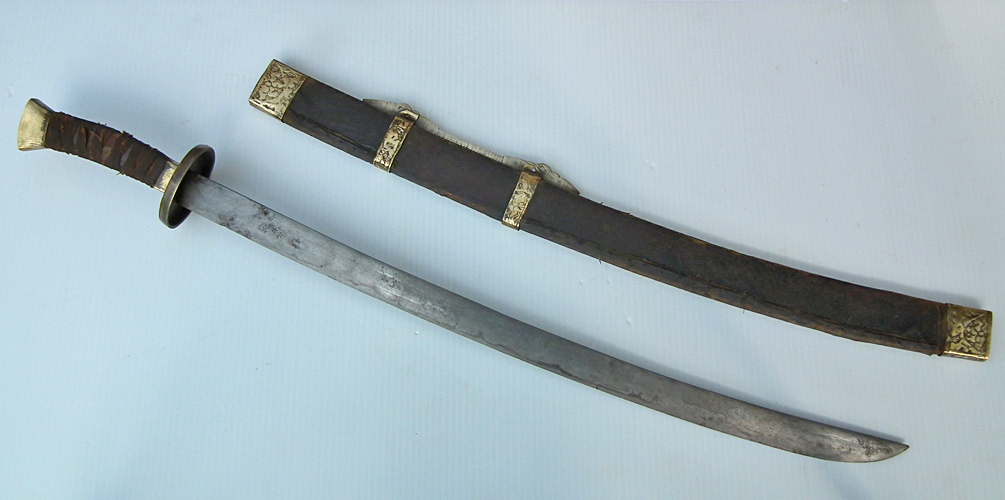 SOLD Antique 18th-19th century Chinese Qing Dynasty sword iuyedao ("willof-leaf saber"). A hand forged Damascus steel slightly curved, single – edged, sturdy blade, showing on each face elaborated Damascus steel pattern and temper line. Mountings in Fangshi style with quadrangular cross-section to the hilt, scabbard, brass mounting of the scabbard, and the hilt.
Hilt comprised of a brass oval shaped guard, ferrule, and pommel. The grip is made of two wood scales wrapped with cord. The wooden scabbard is bound in brown leather, mounted with a brass locket, chape, and two suspensions bands, all being incised with floral pattern.
Since the blade is not grooved and is made from very good quality Damascus steel, there is possibility that the blade is older than the mounting which is a common practice in the east including China, Japan, Persia, and Turkey that older good quality blades have been used by centuries and were frequently remounted.

Condition: In good condition, showing age and usage, the blade is slightly pitted with minor nicks on the edge of the blade, and the leather being slightly worn. All of this is an aspect from a used antique combat sword that is over 150 years old.
MEASUREMENTS:
Overall length in the scabbard: 80.5 cm (31.69 inches).
Overall length without the scabbard: 78.5 cm (30.91 inches).
Due to the fact that the market is flooded by reproductions of Chinese swords, which for inexperienced collectors look the same as authentic objects, we would like to inform our clients that this is a 100% authentic Chinese sword and not a reproduction, and is accompanied by a Certificate of Authenticity.
REFERENCES:
1. Iron and Steel Sword of China. Editor: Huang Pujian.
2. Soldiers of the Dragon: Chinese Armies 1500 BC-AD 1840.by C.J. Peers.