SOLD Antique 18th-19th Century Indo-Persian North Indian Sword Kora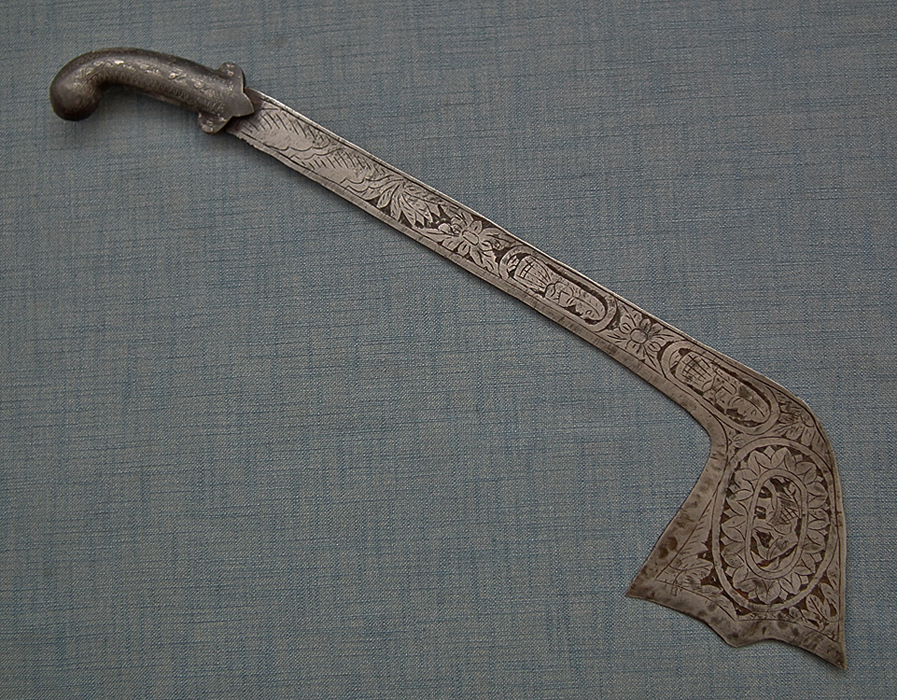 SOLD Antique, Indo-Persian north Indian 18th-19th century, Mughal period sword kora with traditional Mughal pistol form steel hilt with lobed pommel, decorated in silver koftgari with foliage. Large hand forged steel blade in the style of a Nepalese Kora with the end shaped in the form of a stylized Elephant ear with a sharpened edge. Both faces are elaborately chiseled overall in low relief with lions, elephants covered with a ceremonial saddle-cloth, figures in traditional Indian costumes, all amongst the profusely chiseled foliate patterns.

CONDITION: In good condition considering its age, some loss to the silver inlaid.

MEASUREMENTS: Overall length: 67 cm (26.38 inches)

REFERENCES:
A related sword from the collection of the Leiden Rijksmuseum voor Volkenkunde (National Museum of Ethnology Netherlands) dated by museum experts to 18th – 19th century, is published in the book, Armi e Armature Orientali by Gianni Vianello, Figure 43. a, b. Please see the last picture attached to the listing.
The buyer will be provided with a copy of the pages from the mentioned references together with a certificate of authenticity.