SOLD Antique 18th -19th century Islamic Indo Persian Helmet Kulah-Khud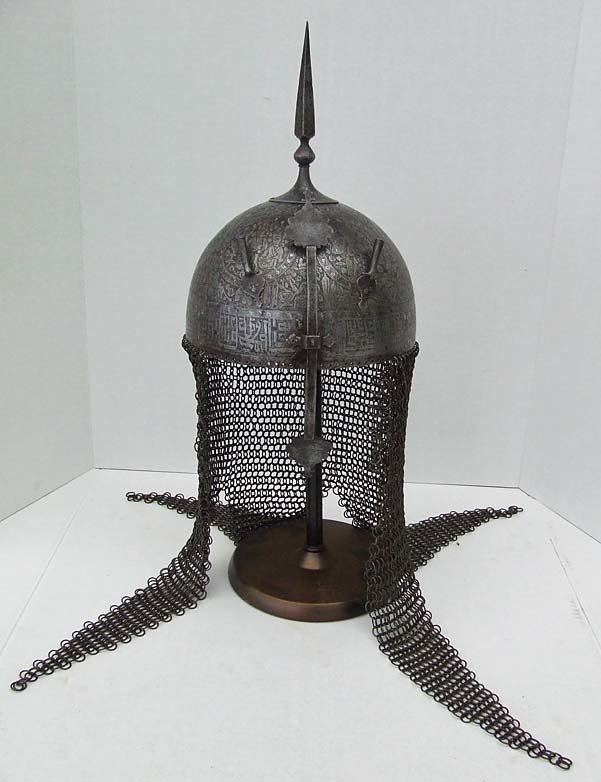 SOLD Authentic antique 18th -19th century Islamic Indo Persian nobleman helmet Kulah-Khud. A silver inlaid hemi-spherical skull formed of one hand forged steel plate, with a stout mounted long spike at the top, a moveable guard nasal flanked by two plume holders, and an extremely long neck defence camail of chain mail of rounded links. The skull is beautifully decorated with six circular medallions and human figures in Indo Persian costumes. The edge of the helmet is adorned by a broad band of six cartouches containing script in Arabic calligraphy.

The skull of the helmet is hammered from a single piece of thick solid steel with visible hammer marks in the interior but with a perfectly smooth exterior surface.

MEASUREMENTS
Height from the top of the spike to the bottom of the mail: 71 cm (27.95 inches)
Height from the top of the spike to the edge of the skull: 27cm (10.63 inches)
Diameter: 19 cm (7.48 inches)

Due to the fact that the market is flooded with reproductions of Indo Persian arms and armour, including helmets, which for inexperienced collectors look the same as authentic artifacts, we would like to inform our clients that this is a 100% authentic antique Indo Persian helmet dated to the 19th - 19th century and is accompanied by a Certificate of Authenticity.

REFERENCES: A three similar helmet are in the collection of the National Museum of New Delhi dated to 17th century, published in the "Indian Armours in the National Museum Collection Catalogue" by G.N.Pant and K.K.Sharma, Page 46 Figure 16, Page 48 Figure19 and 20.
The buyer will be provided with a copy of the pages from the mentioned references, together with a certificate of authenticity.