SOLD Antique 18th - 19th Century Imperial Turkish Ottoman Gold Embroidered Court Robe Kaftan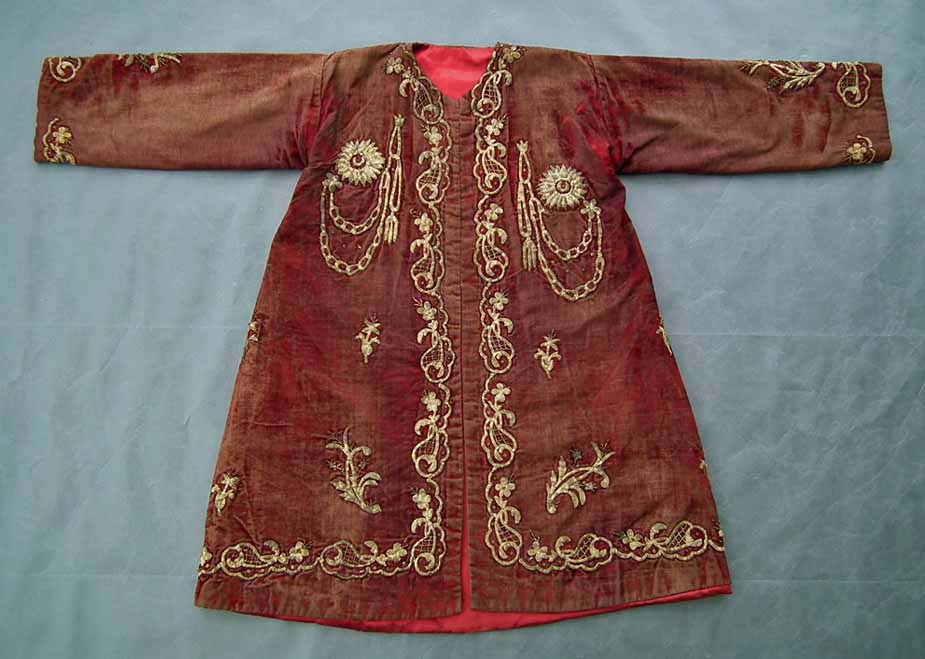 SOLD Antique, 18th - 19th century, imperial Turkish Ottoman, gold embroidered court robe, "Kaftan." of burgundy silk velvet, heavily embroidered in gold thread embroidery, "bindalli" and sequins in dival work and stem stitch with pelmets, foliate scrollwork and garlands. On two sides of the chest are finely embroidered imperial Ottoman emblems, a sunburst with crescent moon in the center. This symbol appears only on the official Turkish Ottoman Imperial coat of arms, so the dress must belong to a member of the Turkish Ottoman Sultan imperial family. We have seen similar Ottoman garments but none of them have these emblems, we were able to find a similar kaftan with these emblems which is on display in Turkish museum, please see the last picture in the listing, the second dress from the left.
REFERENCES: A similar dress, described as the Woman's kaftan worn at the Court, is published in the book, "Ottoman Embroidery" by Roderick Taylor. Page 57. Please see the picture of the page attached to the listing.
CONDITION: Showing the age and usage, with some age wear overall, red satin silk lining with stain marks. There are no holes or applied patches. Please note that this is an antique, over 100 years old textile, which was well used, so a perfect condition cannot be expected.
Since the robe is made from expensive materials, as silk velvet and embroidered in gold, such a Kaftan was a luxury, and very expensive costume during the Ottoman Empire and such high value garments were stored in the treasure trunk, and they were worn by several generations of Ottoman aristocracies, including the Sultan's family. Many of these luxurious dresses still remain in Topkapı Sarayı Museum.
DIMENSIONS: Approximately, when placed flat: Length: 88 cm (34.65 inches.), Width (distance from cuff-to-cuff): 132 cm (51.97 inches). Shoulder back: 40 cm (15.75 inches).
Due to the fact that this type of Turkish Ottoman kaftans were replicated in 20th and 21st century as bridal dresses, which for inexperienced collectors look the same as the authentic antique Ottoman robes, we would like to inform our clients that this is not a 20th/21st century replica but a 100% authentic 18th-19th century antique Turkish Ottoman kaftan and is accompanied by a Certificate of Authenticity.