SOLD Antique 18-19th century Polish or Ukrainian, Russian Cossack Horse Saddle Jarczak Арчак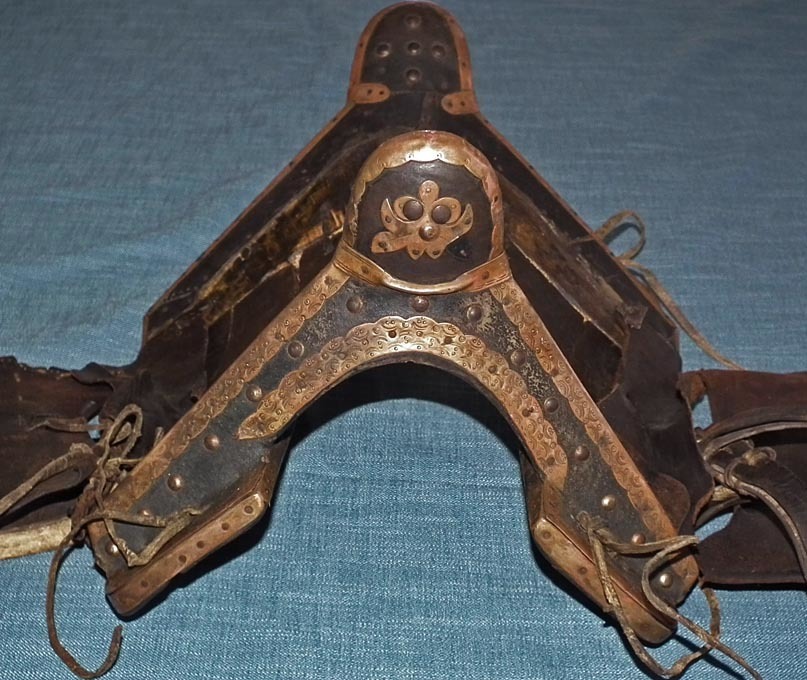 SOLD Very Rare Antique, 18th-19th century, Museum quality Polish or Ukrainian, Russian Cossack horse saddle type called in Polish "Jarczak" and in Russian "Арчак". Made in distinguished Eastern European style, constructed of several elements of wood, with a tall gullet and cantle covered in leather and fitted with an elaborate copper or brass frame decorated with an incised repeated pattern of eyelashes and circles and adorned with domed iron studs. Retains its original leather flaps stamped with geometrical pattern, its original girth straps and hand forged iron stirrups in typical Eastern European manner.
These types of saddles have a leather or fabric cover seat pillow stuffed with wool or goat's hair secured in the middle by a leather belt. Also they were influenced by the Ottoman and Crimean Tatar war saddles and have been widely used by Polish cavalry as well as by Ukrainians, Kubans, and Don Cossacks.
In these circumstances we are not able to determine if the saddle is Polish, Ukrainian, or Russian.

A similar style saddle from the collection of the Polish Muzeum Łowiectwa i Jeździectwa in Warszawa (Museum of Hunting and Horsemanship in Warsaw) described as a Polish late XVIII century saddle and is published on the website of Dariusz Caballeros.

Please see the link below:

http://dariocaballeros.blogspot.ca/2016/08/muzeum-owiectwa-i-jezdziectwa-in.html

However, this particular saddle is fitted with an elaborate copper or brass frame decorated with incised repeated pattern of eyelash and circles. Similar brass-copper fittings can be seen on the 17th-18th century Polish hussar armours, helmets, and armour wings.

CONDITION: Signs of usage with some age, wear overall, leather dried and cracked with old repairs, showing age and usage. All of this is an aspect from a used antique saddle.

MEASUREMENTS
Overall length: 48.5 cm (19.09 inches)

NOTE: The stand which is in the picture is a prop and is not included with the saddle.

To see a similar Russian saddle from before WWII in the Polish state museum, please see the link below.