SOLD Antique 18-19th Century Indonesian Naval Bronze Signal Ships Cannon Lantaka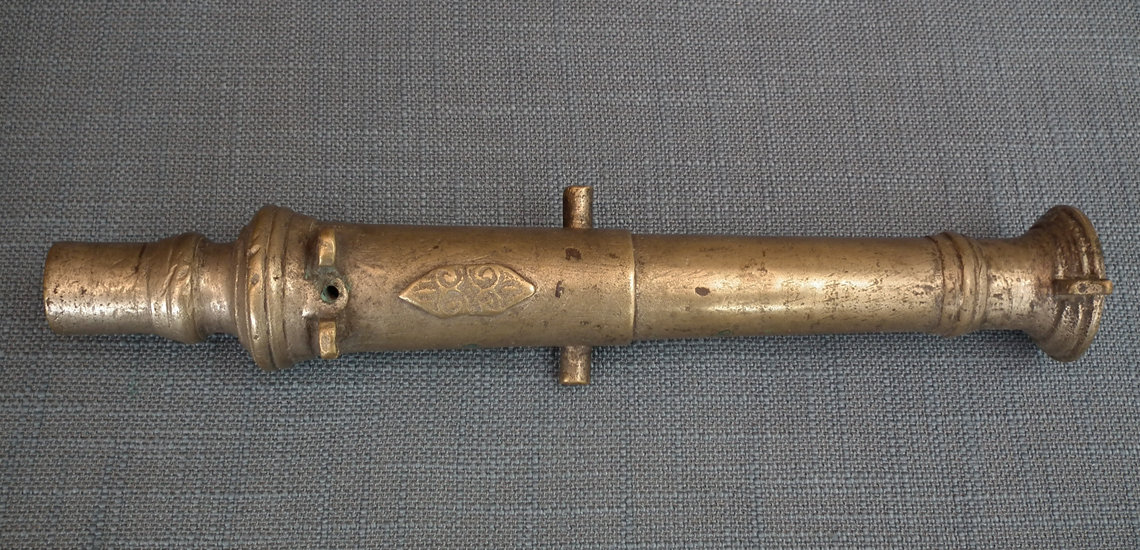 SOLD Authentic Antique, 18th-19th century, small Indonesian bronze , Naval signal, ships cannon "Lantaka," With three-stage barrel with a pair of plain trunnions, moulded flared muzzle with shaped standing fore-sight. Breech section decorated with raised cartouche of scrolls in front of the cupped touch holewith posts on sides, turned base with rings, and drawn - out tubular hollow cascabel for tiller.

This type of the small lantaka was meant to be used as the signal ships cannons to repel boarders, or to signal other ships during the night and in the bad weather conditions, but since the bore is in the size of the large musket bore it was also used as the combat weapon for small ships defense, and was a favorite of Pirates.

MEASUREMENTS:
Overall length: 26 cm (10.24 inches)

Circumference, of the base ring: 4.3 cm (1.69 inches)

Diameter of the bore: 1.4 cm (0.55 inches).

Depth of the bore: 20.5 cm (8.07 inches).

Overall length of the trunnions: 5.3 cm (2.09 inches).

Weight: 1.167 Kg= 2.573 lb.

CONDITION: In its original untouched condition, showing the age and usage, some areas with silver tons' spots, perhaps the surface of the cannon was at some point plated.

The swivel rail cannon (named the Lantaka) were types of cannons that were produced throughout Malaysia, Indonesia, Brunei and the Philippines (Mindanao).

Since the market is flooded with considerable numbers of Replicas and forgeries of antique lantakas, which for inexperienced collectors look the same as the authentic artifacts, we would like to inform our clients that this is a 100% authentic antique lantaka, and is accompanied by a Certificate of Authenticity.