SOLD Antique 17th century Turkish Ottoman Helmet Polish, Hungarian Misiurka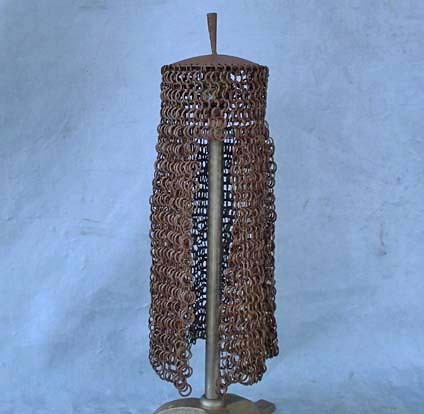 SOLD Extremely Rare Antique, 17th century, Turkish Ottoman cavalry Helmet, with a plain shallow domed steel skull plate fitted on the center with a tubular plume-holder and the chain mail camail formed of a riveted and solid iron rings suspended from the rim.
During the 17th century, the Turkish Ottoman cavalry transformed from heavy armor to Light Cavalry, abandoning heavy turban type helmets, and adopting light helmets with steel circular dish shaped tops. The tops were attached with chain mail that is constructed from much thicker gauge rings than the typical Indo Persian chain mail; also each ring is riveted, which is characteristic for Ottoman chain mail. Some of these types of helmets were made with a plume holder and others without a plume holder.
REFERENCES:
A very similar 17th century Turkish Ottoman helmet with a plume holder from the collection of the Muzeum Historyczne we Lwowie (MHL) (dawniej Muzeum im. Lubomirskich we Lwowie) (The Lviv History Museum) and is published in the book, I podaje wiek wiekowi: tradycje chrzescijanskie w dziejach polskiego oreza by Aleksandra Bukowska (page 237 - No.413), described as a 17th century Turkish Misiurka.
Another example of a comparable helmet with a plume holder is from the Hungarian National Museum Arsenal, published in the book, Hongaarse Wapenpraal by Tibor Kovacs (page 105 - No.88), and described as a 17th century Turkish Ottoman helmet.
Another similar Turkish Ottoman helmet is published in the Sotheby's catalogue, Art of the Islamic World - Sotheby's London, 07, October, 2009, "A Small Ottoman Helmet with Chain Mail, Turkey, 17th-18th century" (lot 166), at a price of £3000-4000, and was sold for £3750.
These types of Turkish Ottoman helmets are very rare, and can be seen mostly only in museums.
The buyer will be provided with a copy of the pages from the mentioned references, together with a certificate of authenticity.
As well, there are similar helmets in the Topkapi Saray collection, in Istanbul. Many of this type were taken by the victorious Polish Army as war booty from the Turkish Ottoman army, mostly in the battle of Chocim 1673, and Vienna 1683. Some of these helmets are published in the catalogue of the exhibition, Odsiecz Wiedenska 1683 at the Wawel Royal Castle Museum - State Art Collection. These types of helmets are as well in Austrian museums and published in the catalogue, Die Türken vor Wien Europa und die Entscheidung und der Donau 1683. There are as well similar Turkish helmets in the Badisches Landes museum, Karlsruhe, published in Die Karlsruher Türkenbeute, Hirmer by Ernst Petrasch.
This type of helmet became a favorite of the 17th century Turkish Ottoman armored cavalry, and were as well adopted by the Polish and Hungarian cavalry. In 17th century Poland, there were special Polish cavalry elite units, Pancerni, a second in rank after the famous winged Husaria. Pancerni were equipped with this type of helmet, called in Polish: Misiurka, either imported from the Ottoman Empire to Poland, or acquired as war booty. The Misiurka, the hussar helmet Zischagge, and the Karabela sword, were symbols of the Polish Sarmatien national military equipment. During the 18th-19th century, it was believed that these items were of distinguished Polish origin, when in fact they are of Turkish origin. An example of this belief is an 18th century Polish painting by Marcello Bacciarelli depicting a 14th century Polish King, Vlaislous Lokietek, on which the king is portrayed wearing a Misiurka helmet with the plume holder, as shown in the link below.
http://www.zamek-krolewski.pl/digitalizacja/zkw_2709_abl_1.jpg
APPROXIMATE MEASUREMENTS: Height from the top of the plume holder to the bottom of the mail: 43 cm (17 inches).
CONDITION: Rusty, the interior on the edge of the skull is with an old repair (reinforced by a small iron plate), some holes for the Chain Mail Camail suspensions, on the rim of the skull, are corroded.
WEIGHT, approximately: 1.750 kg (3.85809 pounds).