SOLD Antique 17th century Mace Islamic Turkish Ottoman, Persian, Polish, Ukrainian, Hungarian, Russian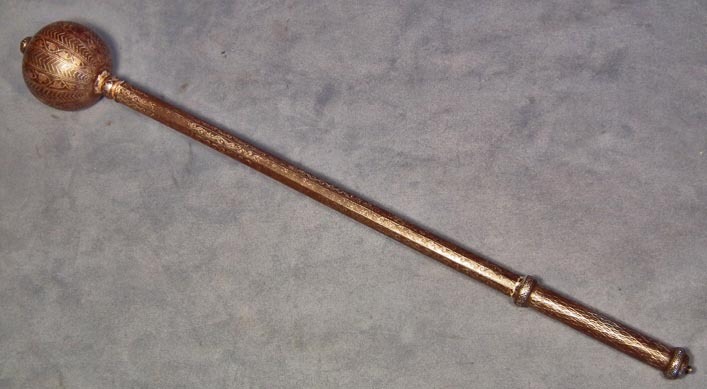 SOLD Antique 17th -18th century all steel Islamic mace Bulawa- Bulava, most likely of Turkish Ottoman or Persian origin. During the 17-18th century in Poland, Ukraine, Russia and Hungary this type of mace was an attribute of a commander of the highest military rank. Most of them were of Eastern origin imported to these countries from Turkey and Persia, or were made there by the local craftsmen in Turkish and Persian style, so sometimes it is impossible to tell, even by experts, where in fact the mace was made.
DETAILS: A skillfully hand forged entirely of steel mace with globular head surmounted by a domed shaped pommel decorated throughout in silver damascening with chevrons and scrollwork foliage divided into sixteen segments, linking to the polygonal section haft with a rounded handle, separated by a pronounced moulding and with a small bun-shaped pommel. All richly decorated throughout in silver damascening with chevrons and scrollwork foliage. This mace is much heavier compared to other Islamic all steel maces.
These types of maces were made in different styles, shapes and from various materials. Some of them were luxurious parade maces decorated with gold and embellished with precious stones. Although richly inlaid in silver this particular mace, made entirely of steel, is a combat mace.
CONDITION: In its original condition, no repairs or restorations whatsoever. Showing the age and usage with slight rust pitting and dark patina, the silver inlay is slightly worn, particularly on haft.
MEASUREMENTS: Overall length: 60 cm (23 5/8 in). Height of the head including pommel: 8.5 cm (3 3/8 in).
WEIGHT: 740 grams = 26.1 ounces.
REFERENCES: This mace is a very similar in shape to the mace of Bohdan Hmelnitsky 17th century Hetman of the Ukraine Zaporozhian Cossack.
There are in museums other Bohdan Hmelnitsky very luxurious parade maces of Turkish or Persian origin; however this particular mace with silver overlay is a combat mace.
Please see the link below:
http://www.bigstockphoto.com/image-5735371/stock-photo-mace
Also a similar in form steel mace is published in the Russian book "TURKISH ARMS" by E.G.Astvatsaturjan. Page 185.
Due to the fact that the market is flooded by very good reproductions of Indo Persian and Turkish Arms and Armour, which for inexperienced collectors look the same as the authentic objects. However these examples are fakes and do not have any historical or investment value.
We would like to inform our clients that this is a 100% authentic 17th -18th century mace, and is accompanied by a Certificate of Authenticity.