SOLD Antique 17th century Indo Persian Mughal Indian Yali Dagger Deccan Sultanates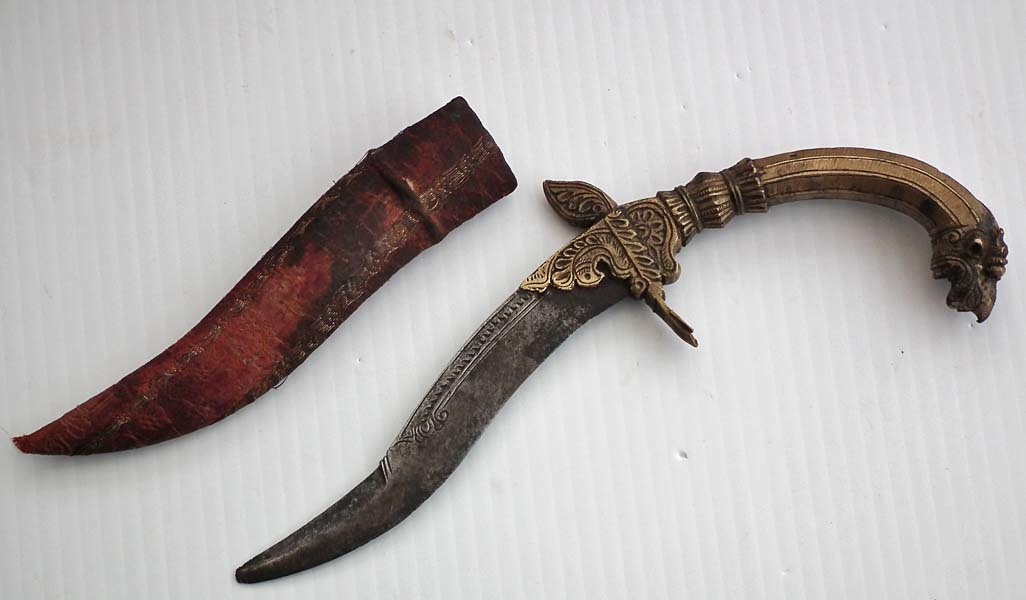 SOLD Authentic Antique, 17th century, Mughal Indian Yali, dagger, Deccan sultanates, Hyderabad, or Mysore.
The hilt, made in cast and chased bronze, comprised of a grip with the pommel in the form of the Yali head with horned bulging eyes separated by a crest to the forehead, an open gaping mouth with powerful dragon-like teeth. The lower part decorated with the l ring in the lotus form an elaborated cross guard and bolster on both sides of the ricasso chased with scrollwork.
A recurved, two stages, sturdy steel blade ornamented on both faces with chased pattern, in its fabric – covered, wooden scabbard.
A yali is a leogrpyh, a fantastic composite rearing lion, or tiger, with aspects of the dragon, or gryphon. It is also called a yalaka, meaning a horned, hybrid lion. The term sinha mukha means, literally, lion's head, or face.
References:
1. Hindu Arms and Ritual: Arms and Armour from India 1400 – 1865. By Robert Elgoot.
2. Indian Arms And Armour Volume II by, G.N. Pant
The buyer will be provided with a copy of the pages from the mentioned references, together with a certificate of authenticity.
MEASUREMENTS: Overall length with the scabbard: 25.5 cm (10.4 inches). Overall length of the dagger without the scabbard: 23.5 cm (9.25 inches).
CONDITION: In good condition and shape considering its age, with signs of age and usage, some pitted spots on the blade, and scratches, which can be expected from an old combat weapon.



Due to the fact that the market is flooded with reproductions of Islamic and Indo-Persian daggers and swords, which for inexperienced collectors look the same as the authentic artifacts. These replicas do not have any historical, or investment value we would like to inform our clients that this is a 100% authentic antique Indian dagger and is accompanied by a Certificate of Authenticity.