SOLD Antique 17th Century Ukrainian Zaporozhian Cossack Mace Булава Пірнач Bulawa Piernacz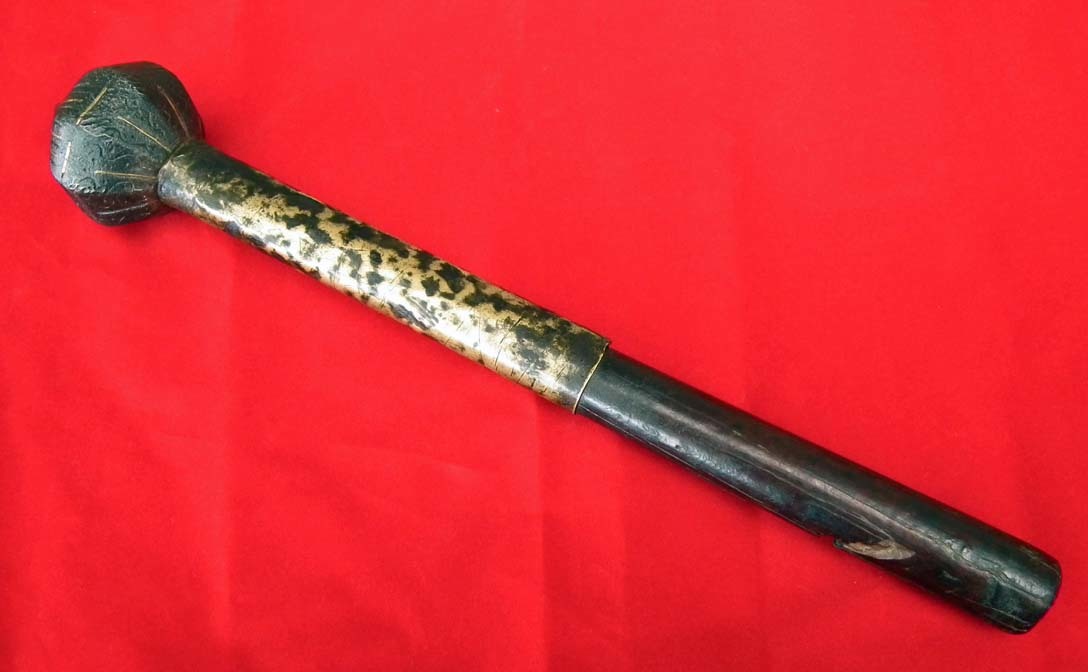 SOLD Rare authentic antique, 17th century ,Ukrainian Zaporozhian Cossack combat mace,Булава,Пірнач,Bulawa, Piernacz, with hand forged solid steel head of bulbous octagonal form, with a raised rosette and mushroom shaped central finial, engraved and inlaid in brass with geometrical motifs, with separate brass socket, mounted on the original, turned short wood haft of tapering circular section with a hole for cord suspension.
Since, the mace is a rare example with the head of an unusual form, it took us a long time to find out the origin of this mace, however, the research had been successfully accomplished. An almost identical mace is in the collection of the Polish Army Museum (Muzeum Wojska Polskiego), Warsaw, and the picture of this mace is published in the book," Polish Armies (2) 1569-1696 (Men at Arms Series, 188)" by Richard Brzezinski, please view the last picture in the listing. Described in the book as the Cossack Piernacz mace.
This form of the short maces, were used as battle weapons bared by a colonel as a symbol of rank, and a sign of the officer's authority, as the commander of the Ukrainians Zaporozhian Cossacks, during the 16th-18th century. These maces were of many different varieties and styles.

The mace, from the Polish Museum is almost identical in details, as the shape of the iron head, brass inlaid geometrical adornment with a mushroom shaped central finial raised on rosette and crudely made separate socket and short haft. Both of these maces look like they were made in the same workshop by the same craftsmen.
This Piernacz mace is also catalogued in the Polish book "Katalog zbiorów wiek XVII Muzeum Wojska Polskiego." Page 44. No 80. Muzeum Wojska Polskiego (Polish Army Museum Warsaw). Inventory Number: 1429* with detailed description including overall length which is: 35.5 cm. (13.98 inches). Weight: 0.60 kg Length of the socket: 14.5 cm (5.71 inches). The Polish museum experts described the inlaid in brass geometrical motifs on the head of the mace as similar to the folk designee of the Hutsuls.
CONDITION: Showing age and usage, surface lightly rubbed and pitted, some loss to brass inlay, the wooden haft chipped and with age cracks. However, the mace is in good condition considering that its age to be of 400 years. The mace is free of any repairs or restoration. We did not perform any improvements to the mace by repairing the wooden haft. We decided to leave the mace in the original condition since the market is flowing with reproductions of Eastern European and Islamic maces professionally aged to look old and authentic; therefore, we do not want to improve the look in any way, so that buyers are able to confirm that this particular mace is a genuine antique.
Overall length: 36.8 cm. (14 1/2 in). Weight: 0.70 kg. Length of the socket: 15.8 cm (6.22 inches).
To see a mace with similar head described as Turkish Ottoman mace with its original 17th century steel head, but with an early 19th century replaced wood haft mounted in Turkish Ottoman silver, which, in fact, is a Ukrainian Zaporozhian Cossack Bulawa Piernacz head mounted with early 19th century Turkish haft. Such modification, repairs and replacement of the parts of weapons, were commonly performed in the time when these weapons were used as functional arms. Please view the link below.
https://www.pinterest.com/pin/522136150523903625/
Our mace is with all of its 100% original, 17th century parts, made by Ukrainian craftsman. There are only two, world known, existing Ukrainian Zaporozhian Cossack mace Piernacz, with all of its original parts. One in the Polish Army Museum, Warsaw, and the second is ours.