SOLD Antique 17th Century Polish Winged Hussar Helmet Szyszak Zischägge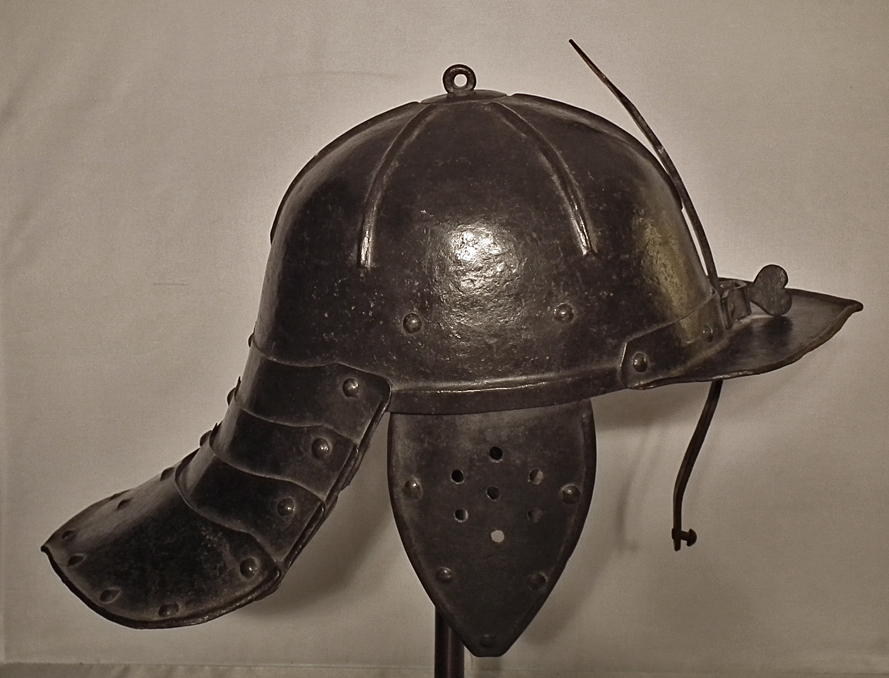 SOLD Authentic Antique, 17th century (circa 1650), Polish – Hungarian Winged Hussar helmet (Szyszak - Zischägge). Extremely well hand forged one-piece hemispherical skull embossed with six radiating ribs, fitted at its apex with a pierced finial on a circular washer, and at its brow a flat peak stamped on the top with the letter "M" and the three crosses underneath, the latter fitted with a sliding nasal-bar retained by a wing-headed screw and stamped on the finial with the letter 'M'. Downturned neck-guard composed of four upward-lapping lames with turned-under edges, a pair of movable cheek flaps pierced with holes, and main edges decorated with plain inward turns and adorned with numerous dome – headed rivets, and blackened throughout.
In the 17th century there were various styles of the Polish Hussar helmets, some of them were made for high ranking officers as luxurious helmets, decorated with brass and embellished with precious stones. This particular model is a typical hussar trooper Szyszak and is well document in Polish references and can be seen on display in many Polish museums, including The Princes Czartoryski Museum in Krakow, The Historical Museum in Sanok.

Please see the pictures and the links attached to the listing.
CONDITION: In very good condition, two of the leather strap holding cheek flaps are wrecked and partly detached by glue.
MEASUREMENTS:
Overall length, from the pointed peak to the end of the neck - guard: 44 cm (17 in).
Height: From the top of the finial to the end of the neck guard: 28 cm (11 in).
WEIGHT: 1.671 kg.
REFERENCES:
1.Husaria Polska. By Zdzisław Żygulski (junior).Page 71-72.
2. Pasja Zbierania: Kolekcja Ryszarda Z. Janiaka: Katalog Wystawy by Ryszard Z Janiak. Page 199.
3. Art in Poland: Land of the Winged Horsemen 1572-1764. Page 204-205.
4. A photocopy of the pages from the aforementioned references will be provided along with a certificate of authenticity.
http://commons.wikimedia.org/wiki/File:Sanok,_Muzeum_Historyczne,_bro%C5%84_szyszak_i_napier%C5%9Bnik_02.jpg
http://commons.wikimedia.org/wiki/File:Sanok,_Muzeum_Historyczne,_bro%C5%84_szyszak_i_napier%C5%9Bnik_01.jpg
http://www.shutterstock.com/pic-38113369/stock-photo-helmet-of-the-heavy-winged-hussars-of-the-polish-lithuanian-commonwealth-poland-th-century.html
http://212.180.246.131/?page=galeria_czasowa&ph_glowna_tresc_start=showGallery&galg_id=1007&galp_id=1097