SOLD Antique 17th Century English Cromwellian, Lobster - Tail helmet Harquebusier Pot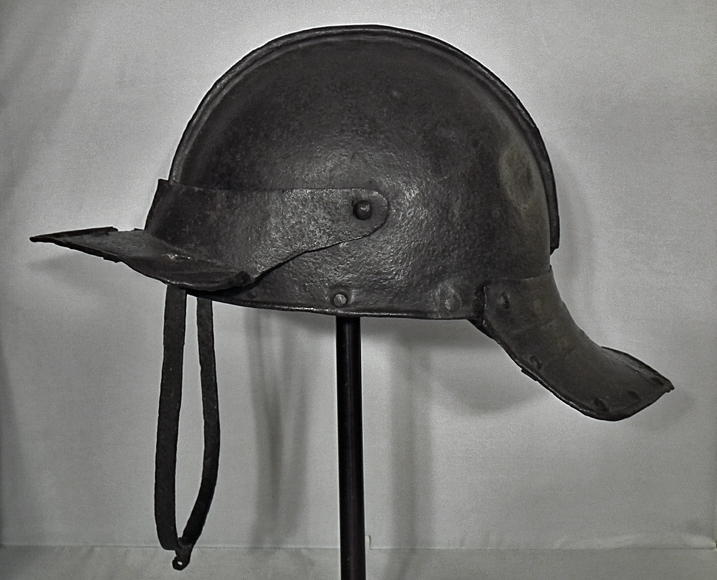 Authentic, antique, 17th century, English Cromwellian, Lobster - tail helmet of the famous Harquebusier parliamentarian Cavalry from the English Civil War period 1642-1651. Details: The scull is made of two pieces joined medially along a low comb, a broad pivoted peak supporting a two - bar face-defense (the central bar missing). The neck guard is riveted to the scull and is made from a single piece of metal embossed to simulate three lines with round headed lining – rivets with remains of their leather lining – bands, pierced with hole for the cord which prevents losing the helmet in the battle.
CONDITION: In its original untouched condition, showing the age and heavy usage, slightly pitted overall, small dents, bar face-defense loose, central bar broken off, absence of cheek-piece.
MEASUREMENTS: Overall length from the pointed peak to the end of the neck - guard: 40.5 cm (16inches). Height from the top of the comb to the end of the face-defense: 35 cm (13 3/4 inches)
REFERENCES: "Civil War: A Royal Armouries Exhibition Sponsored by the Times' Page 7 & 11. A photocopy of the pages from the aforementioned references will be provided along with the certificate of authenticity.
To view comparable Helmets are in the National Army Museum, London collection.
Please see the links below.
http://collections.vam.ac.uk/item/O97748/lobster-pot-helmet-triple-bar-pot-unknown/
http://www.nam.ac.uk/online-collection/detail.php?acc=1996-04-219-1
http://www.britishmuseum.org/research/collection_online/collection_object_details/collection_image_gallery.aspx?assetId=140753&objectId=77363&partId=1