SOLD Antique 17th-18th century Islamic Indo Persian Damascus Steel Wootz Sword Shamshir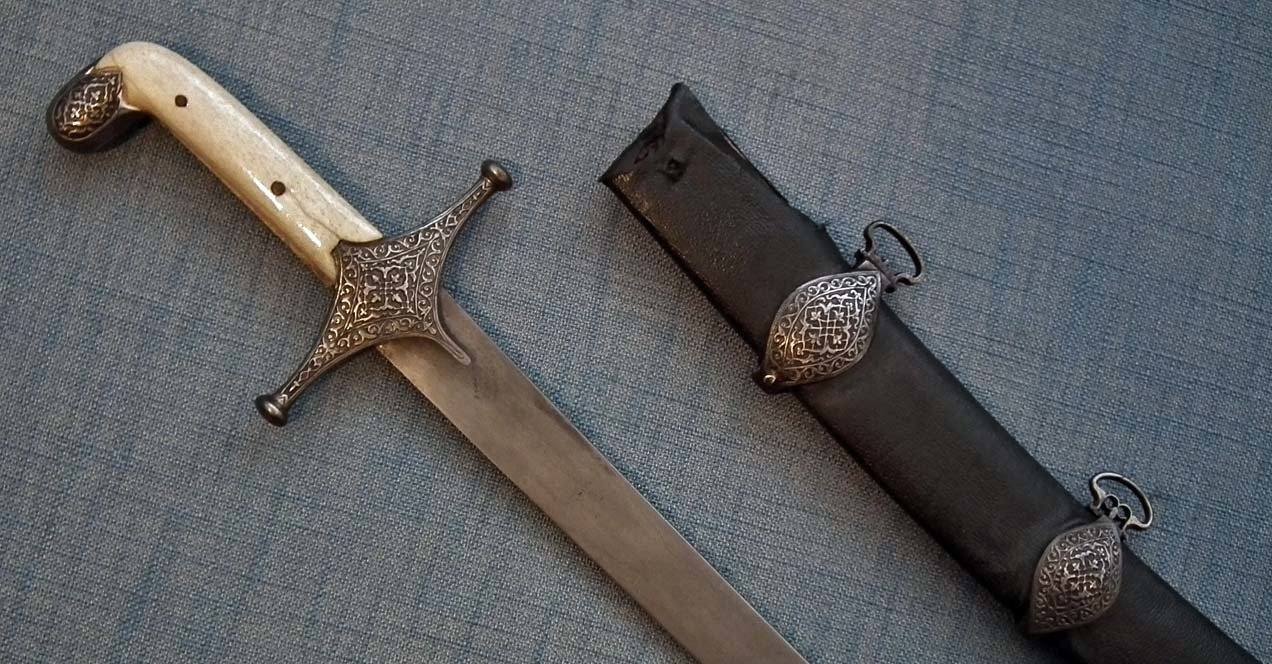 SOLD +SAntique 17th-18th century Safavid Islamic Indo Persian sword-sabre Shamshir. A curved single - edged, sturdy steel blade with superb fine Damascus steel Wootz pattern. The hilt is in a characteristic Indo Persian style comprised of camel bone grip-scales, rising to a finely chiseled pommel, enclosed by steel straps, and steel crossguard with bud shaped terminals. The wooden scabbard bound in oilcloth and mounted with two steel suspension mounts, and a large steel chapel.

The steel crossguard, pommel and the scabbard fittings are finely hand chiseled in distinguishing Safavid floral ornament of arabesque scrolls, blossoms and split leaves.

REFERENCES:
A Survey of Persian Art: from Prehistoric Times to the Present" by Arthur Upham Pope)

The steel mountings are rare and particularly fine example of Safavid metalwork. Comparable quality swords attributed to the Persian kings and rulers with similar hand chiselled steel mountings, but not as fine as these, can be seen in the collections of the Military Museum Tehran.

REFERENCES:
Arms and Armor from Iran: The Bronze Age to the End of the Qajar Period by Dr. Manouchehr Moshtagh Khorasani

This is a very good quality Indo Persian shamshir, and one of the best which I have seen over the years, the Damascus steel Wootz pattern is very fine and of suburb quality, also the steel mounting of the hilt and the scabbard are of fine superb quality. This is one of the best Indo Persian Shamshir which I have seen over the years. We were not able to take better quality pictures of the sword, in fact the sword looks much better than on the pictures.

CONDITION: This sword is in good condition considering its age to be over 200 years showing its age and usage, some wear to the gold inlaid. The wood scabbard which possibly is later replacement, one side of the slot in the throat of the wood scabbard chipped, minor pitting on the end of the blade.
Please notice that the pictures in the listing are part of the description of the condition of the object.

MEASUREMENTS:

Overall length with the scabbard: 92 cm (36.22 inches)
Overall length without the scabbard: 90 cm (35.43 inches)
Length of the blade: 80 cm (31.5 inches)

Weight of the sword without the scabbard: 732 grams = 25.82 ounces

This form of Indo-Persian shamshir swords were very popular and high prized in Mughal India, Persia, Ottoman Turkey, Central Asia, and Eastern Europe among Don and Ukrainian Cossack's commanders, Hungarian, and Polish Nobility during the 17th-18th century.