SOLD Antique 17th 18th century Armorial Pewter Plate Coat-Of-Arms De Melun With Order Of The Golden Fleece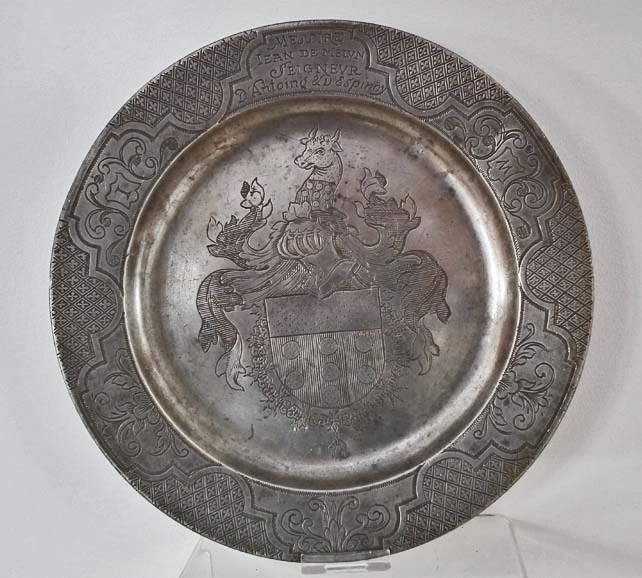 SOLD Antique,17th - 18th century, Continental (possibly Dutch) circular armorial pewter plate. The center is finely engraved with a large coat-of-arms of one of the most important European aristocratic families of the famous house De Melun. Heraldic shield with Azure and seven gold bezants, crowned by the peer helmet with mantling bull crest at the top with seven bezants on his neck .The Order of the Golden Fleece hangs suspended around the shield.
The rim engraved with a design of foliage on checkered background, and adorned on the top with an inscription dedicated to the most important member of the
house, "
D
e Melun
MESSIRE IEAN DE MELUN SEIGNEUR
D'Antoing &
D
'Épinoy"
The base of the plate stamped with touch marks.
To see the De Melun coat-of-arms in color, and the family history, please view the links below.
https://www.pinterest.com/pin/438678819927019220/
https://www.pinterest.com/pin/438678819927019112/
https://s-media-cache-ak0.pinimg.com/236x/d7/3e/08/d73e084b56e27f63d38d78ebc0bfa32a.jpg
http://fr.wikipedia.org/wiki/Maison_de_Melun
MEASUREMENTS: Diameter: 24.2 cm (9 1/2 in).
WEIGHT: 603 grams (21.27 ounces).
CONDITION: Showing the age and usage. Free of repairs or restoration.