SOLD Antique 17th-18th Century Jewelled Gilt silver Ottoman Hungarian Or Polish Clasps Buckles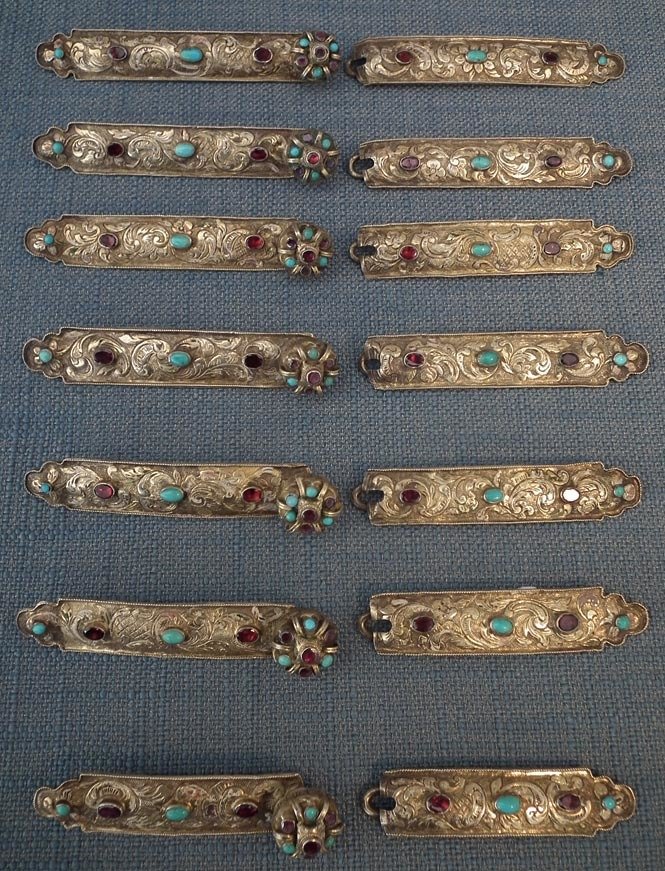 SOLD An exceptional antique 17th-18th century set of 14 (forming 7 pairs) solid silver gilt and jeweled Ottoman, Hungarian or Polish aristocrat's garments or chainmail hauberk clasps -closures. Each clasp is of rectangular form plate with lobed ends the exterior repoussee and finely chiseled with scrolling floral designs and set with various sizes and shapes natural purple gemstones and Persian Turquoise within granulated work borders. Six of the twelve plates are adorned with ornament in the form of crown shaped bulbous buttons engraved and set with natural purple gemstones and Persian Turquoise
The reverse fitted with rings attached to the clasp of the garment with a hook and loop closure.

This type of the clasps was attached to a luxury robe or mail hauberk worn by Hungarian and Polish aristocrats during 16th -17th century and was fastened over the breast. They proclaimed considerable wealth and status of the owner and are associated with the Turkish Ottoman empire where they were worn by high rank ottoman officials as buckles on luxury garment (kaftan) or mail hauberk

During the 16th -18th century, by contact with the Ottoman Empire, they were adopted by Hungarian and Polish nobles, together with ottoman garments and weapons. These types of the clasps in Turkish Ottoman fashion were made in Hungry, particularly in Transylvania, and in Poland, in the city of Lwow by Polish Armenians specializing in manufacturing luxury products in Turkish Ottoman style, known as "Armenian goods". Since there are no silver hallmarks, we are not able to make certain if this object is an Ottoman or is made by Hungarian or Polish silversmiths during the 17th -18th century.

CONDITION: In overall good condition, shows signs of usage, there are some spots with traces of paint highlighting, complete with all gemstones, two oval Gemstones have cracks. Please notice that the pictures in the listing are part of the description of the condition of the object.

DIMENSIONS
Approximate overall length of the larger clasp 10cm (3.94 inches)
Approximate overall length of the smallest clasp 6.7 cm (241⁄64 inches)
Width of each clasp 1.6 cm (0 5⁄8 inches)

Total of Gemstones: 105

Total weight: 126 grams (4.44 ounces)

17th century portraits depicting Hungarian, Ottoman and Polish aristocrats wearing alike clasps and the ottoman mail hauberk with similar clasps including an armour od Turkish Ottoman Sultan Mustafa III are attached to the listing