SOLD Antique 17th-18th Century Islamic Turkish Ottoman, Crimean Tatars or Polish Horse Saddle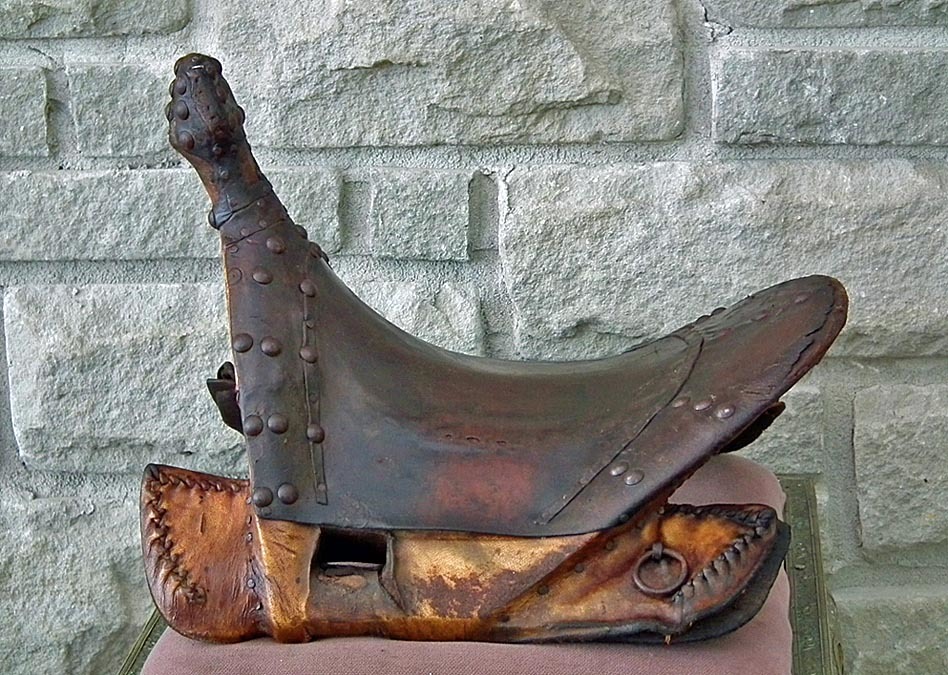 SOLD Antique, 17th-18th century, Islamic Turkish Ottoman or Crimean Tatars or Polish horse saddle. A wooden tree constructed with a tall bulbous pommel and high cantle covered by Rawhide, and faced on the top by brown leather decorated with numerous domed metal studs.
This form of the Islamic saddles was used by the Turkish, Crimean Tatars and Persians during the 17th-19th century. Some of these types of saddles were made as luxurious parade saddles covered by embroidered velvet and decorated with gilt mounts and embellished with precious stones. This particular one is a typical working saddle used in traveling and combat.
During the 17th-19th century eastern European people such as Hungarians, Poles, Russians, and Ukrainians were using this type of Turkish, Crimean Tatars and Persian saddles. Also they made their own saddles based off Persian and Turkish prototypes in both versions as luxurious parade saddles and working saddles.
CONDITION: Signs of usage and wear, particularly on the pommel, and the border of the cantle leather, rawhide dried with age, and splits on the ends of the bars.
MEASUREMENTS: Overall length: 46 cm (18 1/8 in). Height: 33 cm (13 in).
We have attached to the listing pictures of Turkish Ottoman saddles from various sources.
The last picture in the listing is showing the leather saddle from the Museum Exhibition Catalog, "Die Türckische Cammer" by Holger Schuckelt (Page290. No.277), the saddle is described as Polish or Crimean Tartar. 1714 Gift of the khan of the Crimean Tatars Kaplan - Giray to the Augustus the Strong King of Poland and Elector of Saxony.
Links:
http://www.kultur.gov.tr/EN,31772/saddle.html
http://uniropa-reisen.com/english/turkeyinfo/ottoman/relics_of_the_ottoman_period.htm