SOLD Antique 17--18th century Islamic Indo Persian Turkish Sword Shamshir Damascus Steel Wootz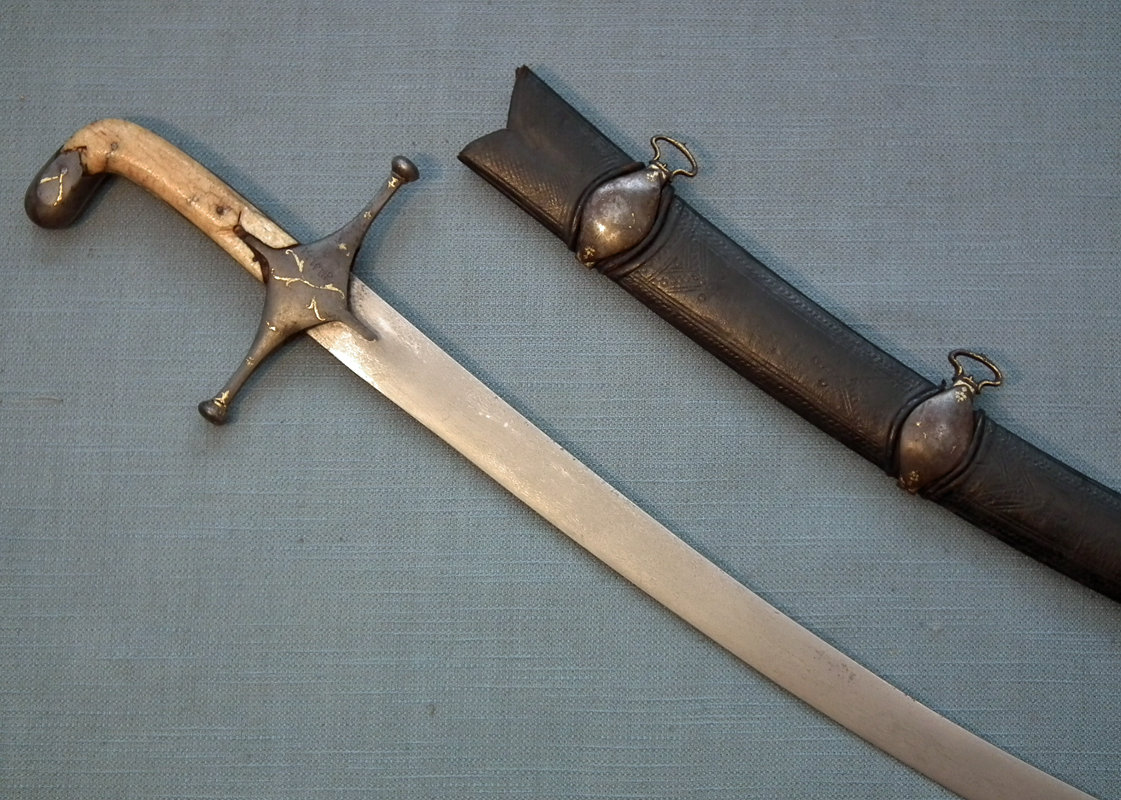 SOLD Antique 17th-18th century Islamic Indo Persian sword Shamshir. A curved single edged blade with a very fine Damascus steel Wootz pattern. The hilt is in a characteristic Indo Persian style comprised of grip-scales, rising to a gold inlaid steel pommel, enclosed by gold inlaid steel straps, a gold inlaid steel crossguard with bud shaped terminals. In its wooden scabbard bound in leather with hand tooled pattern and mounted with two well made gold inlaid steel suspension mounts, and a large gold gild copper elaborately shaped chape.

This is a very good quality Indo Persian shamshir, and one of the best which I have seen over the years, the Damascus steel Wootz pattern is very fine and of suburb quality, also the steel mounting of the hilt and the scabbard are of fine superb quality. This is one of the best Indo Persian Shamshir which I have seen over the years. We were not able to take better quality pictures of the sword, in fact the sword looks much better than on the pictures.

Comparable quality swords can be seen only in the collections of the most important world museums.

CONDITION: This sword is in good original condition considering its age to be over 200 years showing its age and usage, some wear to the gold inlaid.

MEASUREMENTS


Overall length with the scabbard: 87 cm (34.25 inches)
Overall length without the scabbard: 86 cm (33.86 inches)
Length of the blade: 73 cm (28.74 inches)

This form of Indo Persian shamshir swords were very popular and high prized in Mughal India, Persia, Ottoman Turkey, Central Asia, and Eastern Europe among Don and Ukrainian Cossacks commanders, Hungarian, and Polish Nobility during the 17th-18th century.