SOLD Antique 17 -18th Century Turkish Ottoman or Indo-Persian Islamic lance Head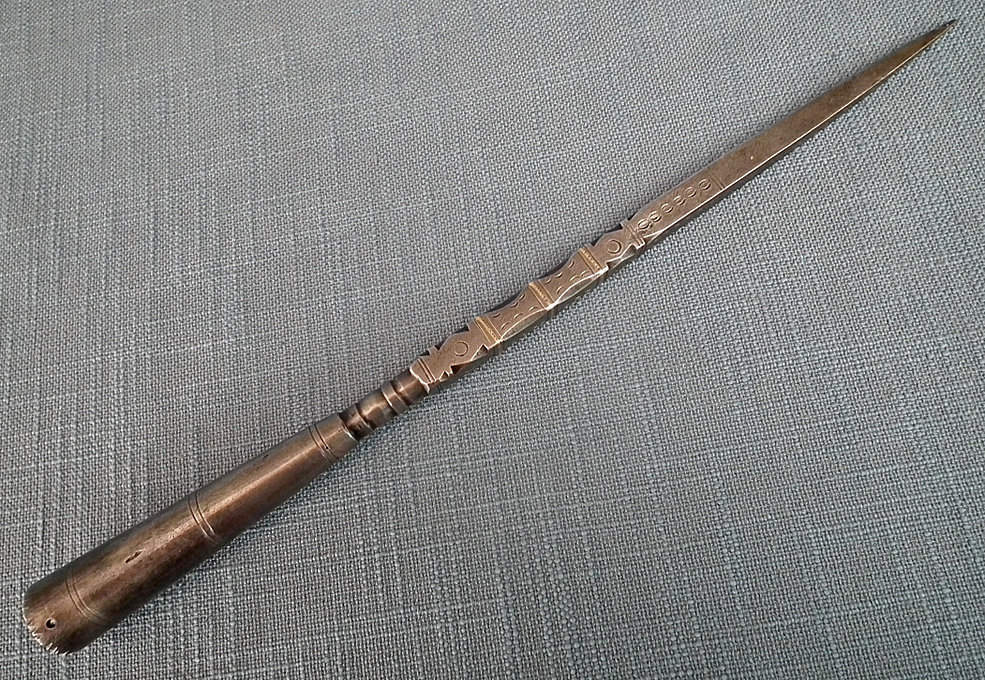 SOLD An exceptional Antique 17th -18th century Ottoman Turkish or Indo-Persian Islamic lance-spear steel head with a sturdy extremely well made of hand forged steel blade of tapering square cross section faceted, chiseled, and inlaid in brass. The tabular of the socket is cut with three double rings and adorned on the rim with a scalloped pattern and pierced with hole for the pin to be fasten to the wood haft. The specific construction of this lance head has been specially designed to break through armor.
In the book, Persian Steel: The Tanavoli Collection (Oxford Studies in Islamic Art) by James Allan, on page 81 Fig 59 is published a 17th century, dated 1037 H (1627-28 A.D.), an steel inlaid with brass Falcon perch made by Muhammad Husain made in an almost identical manner as this spear head. Please see the last two pictures in the listing.

'Persian Steel' displays a remarkable collection of steel objects of the Iranian polymath Parviz Tanavoli. The Tanavoli collection, built up over the course of twenty years, testifies to the rich and longstanding place of steel in Persian society. Through Safavid and Qajar times up to the 20th century, steel has been a part of the region's social, economic, and religious life. The collection presented here is fascinating for the multiplicity of forms on show, ranging from humble objects from daily life to artifacts reserved for the economic, religious, or military elite. What the collection proves finally is that the crossover between artist and artisan for here beauty is never sacrificed for utility nor vice-versa.

http://www.ibtauris.com/books/the%20arts/art%20forms/decorative%20arts/persian%20steel%20masterpieces%20of%20iranian%20art

The buyer will be provided with a copy of the page from the mentioned reference, together with a certificate of authenticity.

To view an 18th century Turkish Ottoman Jarid - Javelins with a similar blade construction please see the link below:

https://www.pinterest.com/pin/7881368075739775/

CONDITION: In good condition considering its age, showing age and usage.

MEASUREMENTS
Overall length of the steel head: 36 cm (14.17 inches)