SOLD Antique 17/18th Century German Military Sword-Saber With Wolf Of Passau 1414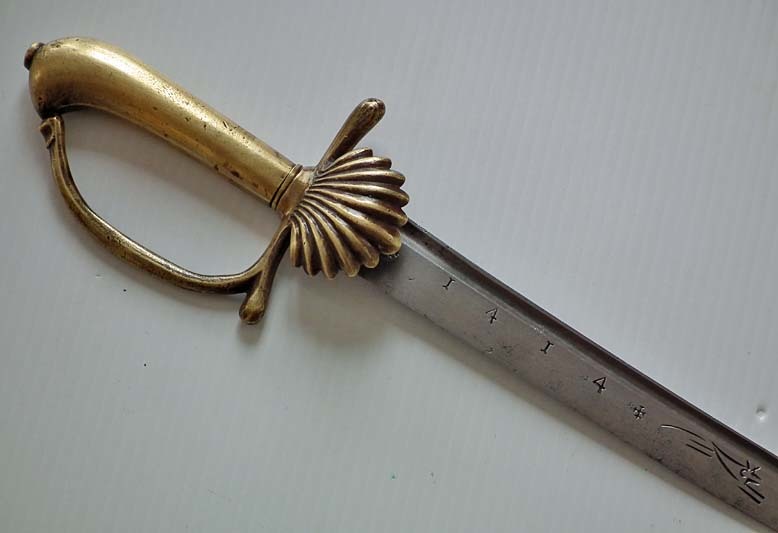 SOLD Scarce, antique, late 17th – early 18th century, German military sword-saber, with cast brass hilt comprised of slender grip with a pronounced pommel knuckle – guard, short quillons and down–curved scollop shell – guard. A slightly curved single edged blade, cut with a slender, full – length fuller along the back-edge, displaying on each side deeply struck and carved marks, including the 'running wolf' of Passau, number 1414, flanked by crosses,"The number 1414, which is stamped on the blade has been variously interpreted, and remains unclear, whether these numbers represent numeric combinations for good fortune, or, perhaps in the 1414 numeric, the Biblical passage from Job 14:14, "..a man dying, he will live again". In occult lore, the numbers are intended for good fortune, and the 4 often represents Jupiter and as a protective talisman in symbols, also, the 1 and 4 are applied in mathematical combinations based on the lucky number 7. The back of the brass grip is chiseled with regimental marking 2: G p – No 125.

MEASUREMENTS: Overall length 85.5 cm (33 5/8 in), length of the blade: 72.4 cm (28 1/2 in).
CONDITION: Showing the age and usage, slightly bent in the middle with minor flaw (please see the photos).