SOLD Antique Royal Afghan Islamic Sword Siraj ul-millat wa ud-din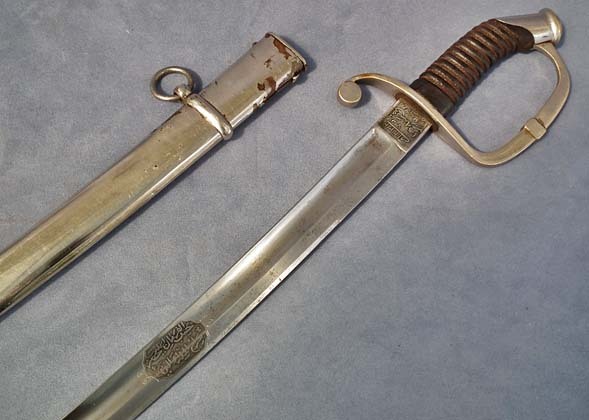 SOLD Antique 19th century Royal Afghan sword. An extremely sharp slightly curved single edged steel blade, with a wide full-length fuller. The middle of the blade is decorated with an elaborated cartouche containing inscription in Arabic, "For The Request of His Majesty Siraj ul-millat wa ud-din". The other side adorned with a Royal Afghan crest.
A forte etched in Arabic Ta'liq calligraphy with two Islamic Hijri dates: top line: 1330, and bottom line: 1320. The other side of the forte signed in Kufi Arabic Calligraphy by Kabul Work Shop. A Nickel - plated brass "D" shaped hilt in the Russian officer shashka style, with a leather covered wooden grip, bound with roped wire, and set with a helmet pommel. The sword is in its original Nickel - plated iron scabbard with one suspension ring.
CONDITION: The sword is in very good condition considering its age, except for a crack in the throat of the scabbard, and some flakes to the nickel plating on the scabbard.
MEASUREMENTS: Overall length with the scabbard: 104.7 cm (41 1/4 in), length without the scabbard: 105 cm (40 1/2 in), length of the blade: 89.5 cm (35 1/4 in).