SOLD Ancient Ur Type Bronze Sword Dagger luristan 2600-2350 B.C.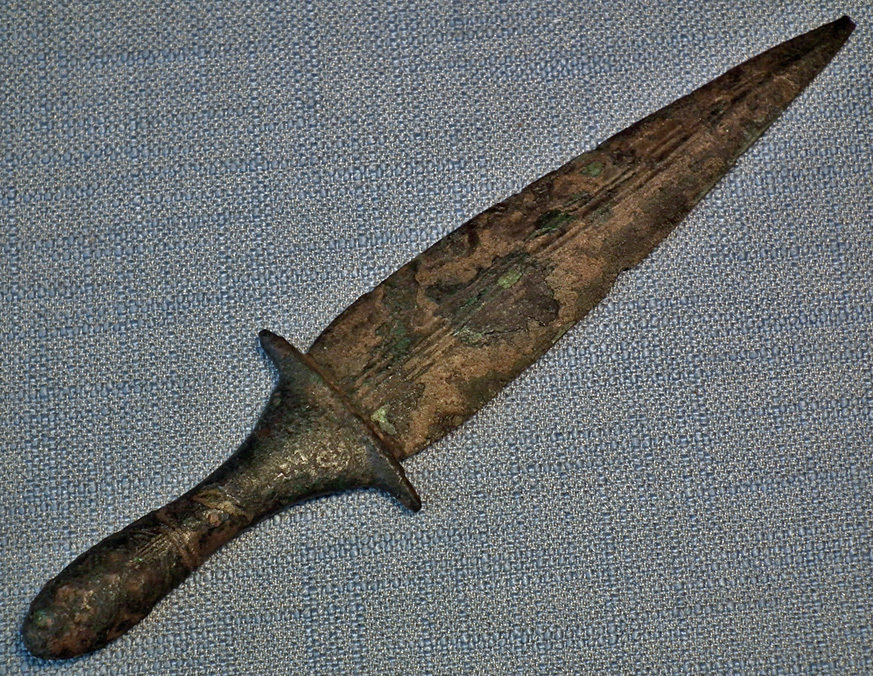 SOLD Antique, ancient Luristan Ur type bronze dagger Early Bronze Age circa 2600-2350 B.C. with a short, broad leaf-shaped blade with incised central groves, the rounded hilt with gently curved guard and ovoid pommel, decorated in relief with dots and incised zigzags, and pierced with a hole for the rivet. This particular form dagger is virtually identical to the Sumerian Early Dynastic gold dagger found in the Royal Tombs of Ur (the grave-goods), and dates to 2600 – 2300 BC.

Link: https://allmesopotamia.tumblr.com/post/10524058440/gold-dagger-with-lapis-handle-and-sheath-from

CONDITION: In very good condition considering its age, well preserved with beautiful green patina showing its age and usage.
MEASUREMENTS: Overall length: 24 cm (9.45 inches).
PROVENANCE: From an old Canadian collection formed in the 1980s.
REFERENCES: Similar daggers are publishd in the following references:
1) "A Survey of Persian Art: from Prehistoric Times to the Present" by Arthur Upham Pope Volume VII. Page 54.
2) "Iran in the Ancient East" by Ernest E. Herzfeld. Plate XXVIII.
3) Bronzes du luristan Publisher: PARIS MUSEES (17 March 2008) Page 39.
4) Les Antiquités du Luristan: collection David-Weill by Pierre Amiet. Fig. 3

To view related daggers in the Los Angeles County Museum of Art (LACMA) and British Museum+S please see the link below:
http://ancientart.tumblr.com/post/61379481795/a-collection-of-luristan-daggers-from-iran-all
https://commons.wikimedia.org/wiki/File:Dagger_LACMA_M.76.97.501.jpg
http://www.britishmuseum.org/research/collection_o...