SOLD Ancient Egyptian blue faience Amulet God Anubis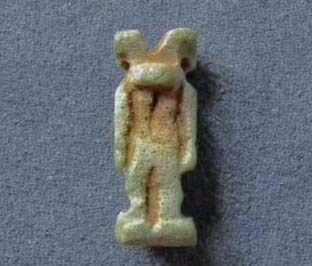 SOLD Authentic, Ancient Egyptian blue faience Amulet depicting the Jackal headed God Anubis Late Period, 26th-30th. Dynasty. ca. 664-332 B.C.
He had two major roles in ancient Egyptian religion. The most important of his roles was to monitor the Scales of Truth to protect the dead from deception and eternal death. The second was to protect the deceased from jackals and decay through mummification and embalming.
Amulets like the one offered here were worn by the relatives of the deceased to protect their departed.
MEASUREMENTS: Approximate length: 2.2 cm (0.866142).
CONDITION: in original condition showing its age. No repairs or restorations.