SOLD Ancient Chinese Pottery Amphora Neolithic Qijia culture (2200 BC – 1600 BC)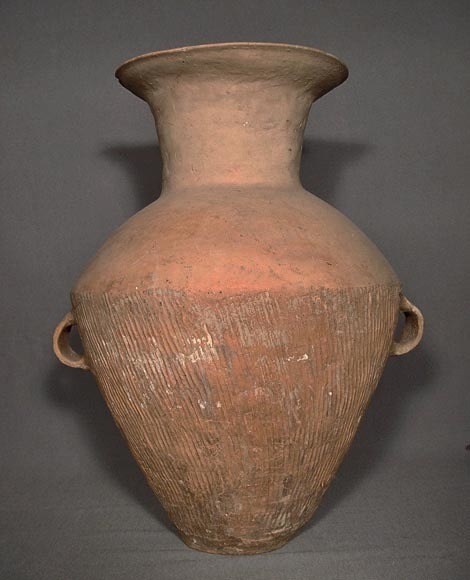 SOLD Rare authentic ancient pottery, amphora from Chinese Neolithic Qijia culture, Gansu Province (2200 BC – 1600 BC), red terracotta pottery, Amphora, with wide flaring lip and two small lug handles, body decorated with vertical, 'impressed cord', pattern.

The Qijia culture pottery is very rare compared to the other Chinese Neolithic ceramic, most of the known Qijia culture pottery artifacts are not very tall. This particular example is huge and the biggest from all Qijia culture pottery vessels which can be found in the references.

CONDITION: Neck cracked and mended rim chipped, otherwise in good condition for its age.

Colors may differ slightly with items in pictures, due to lighting conditions, and color settings of different computers.

MEASUREMENTS: Height: 46 cm (18 1/8 inches). Distance across the handles: 35.5 cm (14 inches).

Links to the encyclopedic information about Qijia culture;

https://en.wikipedia.org/wiki/Qijia_culture