SOLD Ancient 6th century B.C. Greek Corinthian Pottery Perfume Aryballos With 4 Hoplites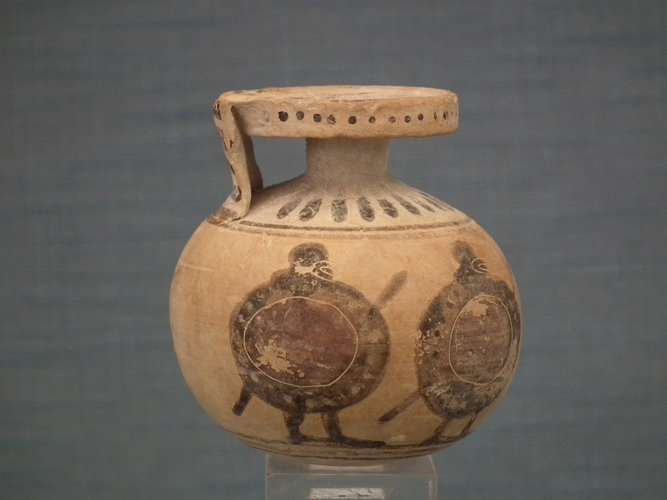 SOLD Authentic Ancient 6th century B.C. (Ca. 580 to 520 B.C.) Greek Corinthian pottery perfume flask Aryballos with a bulbous body, narrow neck, small handle, and a thick everted rim. The body is painted in black and brown and accented with incised lines with a procession of four Greek hoplites warriors in helmeted heads facing right bearing spears and large shields. The shoulder is painted with concentric circles and bands of radiating strokes at the top of the rim and the base is decorated with circular rings.

An aryballos was used in Ancient Greece to contain perfume or perfumed oils, and is often depicted in vase paintings being used by athletes during bathing. In these depictions, the vessel is at times attached by a strap to the athlete's wrist, or hung by a strap from a peg on the wall.

MEASUREMENTS

Height: 6.4 cm (2.52 inches)

CONDITION: Very good condition. Intact, small chips to the rim, with light surface deposits.

PROVENANCE: Ex Canadian private collection.

The buyer will be provided with a certificate of authenticity.