SOLD A scarce Antique 19th century British Victorian Infantry Sergeant's Sword Sabre 1822/1845 Pattern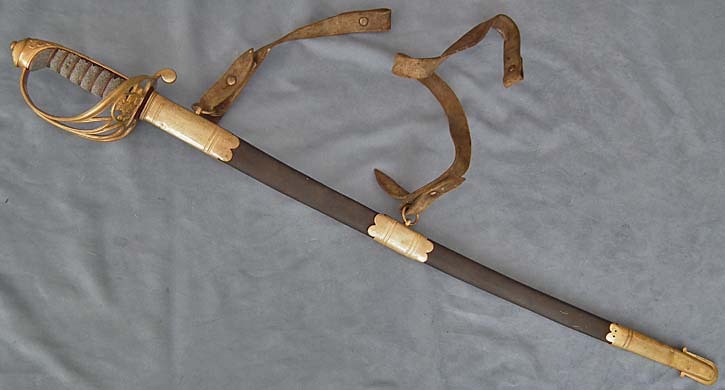 SOLD A scarce antique 19th century British Victorian Infantry sergeant's sword 1822/1845 Pattern. Details: A gold gild brass four bar basket hilt incorporating a crown over the royal cipher VR, with a wire bound sharkskin grip, with a back-strap decorated on the top in rococo ornament. A sturdy slightly curved single–edged blade with full length fuller, double – edged toward the point, stamped on the spine by the maker "MOLE" inner side of the forte stamped with the number 13, "B", and a crown above. (Birmingham)
The edge of ricasso is also stamped with the number 13, "B", and a crown above. The sword comes with its original leather scabbard with gild brass chape, locket, and suspension mounts with two rings and the leather sword slings. The blade of this particular sword is not engraved, and is sturdier and heavier, compared to similar officers swords of this pattern. Also the hilt is larger to comparable swords; since this is a combat sword, most likely from the Crimean War period of time.
CONDITION: The sword is in good condition considering its age. Some rust spots to the blade otherwise in good condition.
MEASUREMENTS: Overall length with the scabbard: 99 cm (39 inches). Length without the scabbard: 97.2 cm (38 1/4 inches).
REFERENCES:
1. Swords of the British Army: The Regulation Patterns, 1788 to 1914: by Brian Robson.
2. British Military Swords 1786-1912 the Regulation Patterns by Harvey Withers