SOLD A Pair Of Antique Chinese Cinnabar Lacquer Vases Imperial China: Qing Dynasty (1644–1911).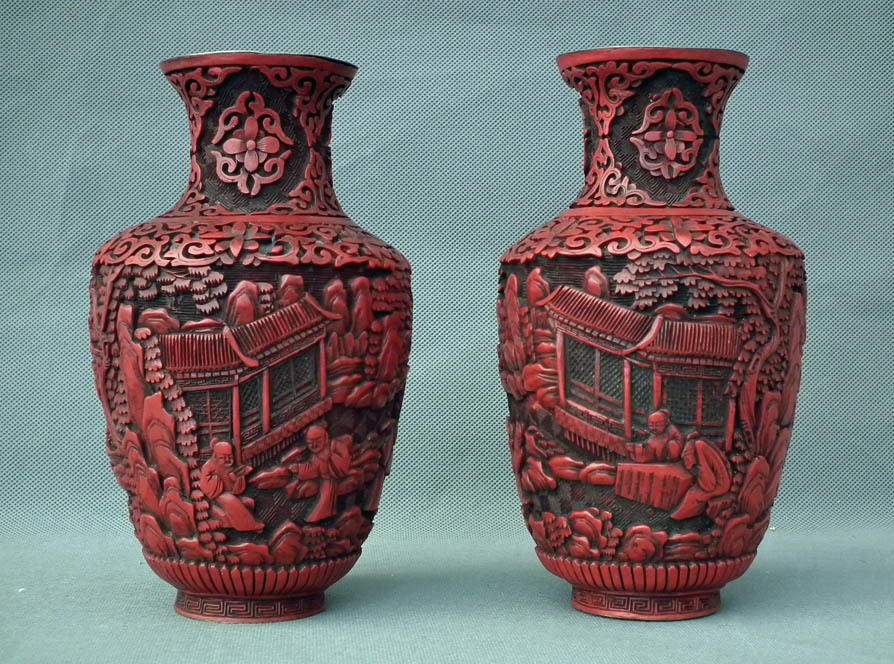 SOLD A pair of authentic antique Chinese cinnabar lacquer vases of baluster form, Imperial China: Qing Dynasty (1644–1911).
Each vase finely carved overall through a thick layer of lacquer with scholars and attendants in the garden pavilions with pagodas amongst a mountainous landscape scene with rocks and trees, all against three diaper grounds, reserved on cell-pattern and geometric grounds. The upper part of the body and the flaring neck adorned by scrolling lotus blossoms. The lower part carved with lotus petals and key-fret pattern on the spreading foot. The neck and the base finished with brass, the interior and base lacquered black.
MEASUREMENTS: (approximately): Since the vases are antique and handmade the heights are not exactly the same. Height of the first vase: 19 cm (7 1/2 inches), and the second vase height is: 18.6 cm (7.32 inches).
CONDITION: Signs of usage and wear, slight dent on the side of one of the vases. Brass rims uneven.