SOLD A Pair Of Antique 17th – 18th Century Islamic Turkish Ottoman Stirrups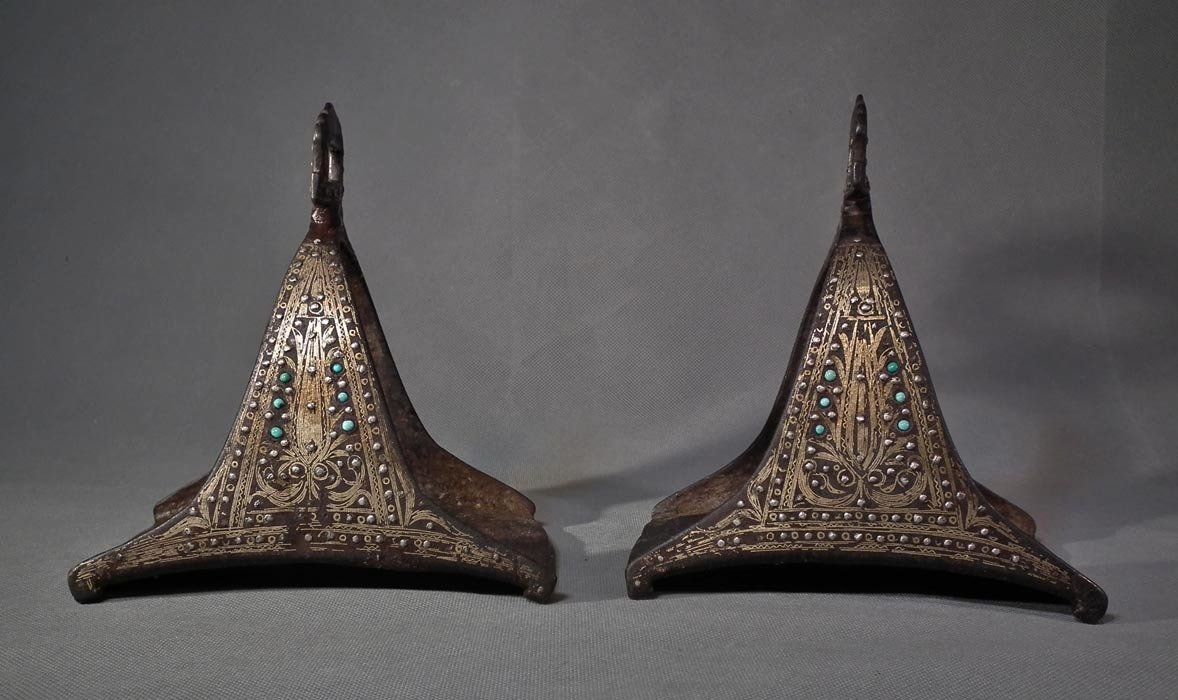 SOLD A pair of antique, superb quality 17th – 18th century (Circa 1676-1725), Islamic Turkish Ottoman stirrups of characteristic form, beautifully hand made of russet iron with curved base plate, flanked by flat sides rising to an arch and finishing with a loop, the surface enriched in alloy of gold linear ornament and adorned with turquoise stones and silver studs.

DIMENSIONS: Approximately
Length: 16.5 cm (6.5 inches)
Width: 12.5cm (4.92 inches)
Height: 17.5 cm (6.89 inches)

REFERENCES: Similar Ottoman stirrups dated to the 17th -18th century are published in the following references.
1. "Throne of Relics" in Honour of "His Royal Highness the Invincible Jan III Sobieski, King of Poland" on the Three Hundredth Anniversary of His Death 1696-1996. Wilanow Palace Museum Warsaw 1996. Page: 245 No: 208.2099. Title: Stirrups Turkey 17th -18th century.
Please see the last picture in the listing.
2. A Passion for Collecting - The Collection of Ryszard Z.Janiak, in the Royal Castle in Warsaw 2007 and are published in the catalogue from the exhibition .Page 179.Fig.1/93.
3. Rites of Power: Oriental Weapons / Rituais de Poder: Armas Orientais: Collection of Jorge Caravana. Page. 77. Fig.4. Which, also, can be viewed on line, please see the link below.
http://www.caravanacollection.com/project/stirrups-pair.html

The buyer will be provided with a copy of the pages from the mentioned references, together with a certificate of authenticity.