SOLD Antique Chinese Sword Jian 劍 Qing Dynasty 19th Century China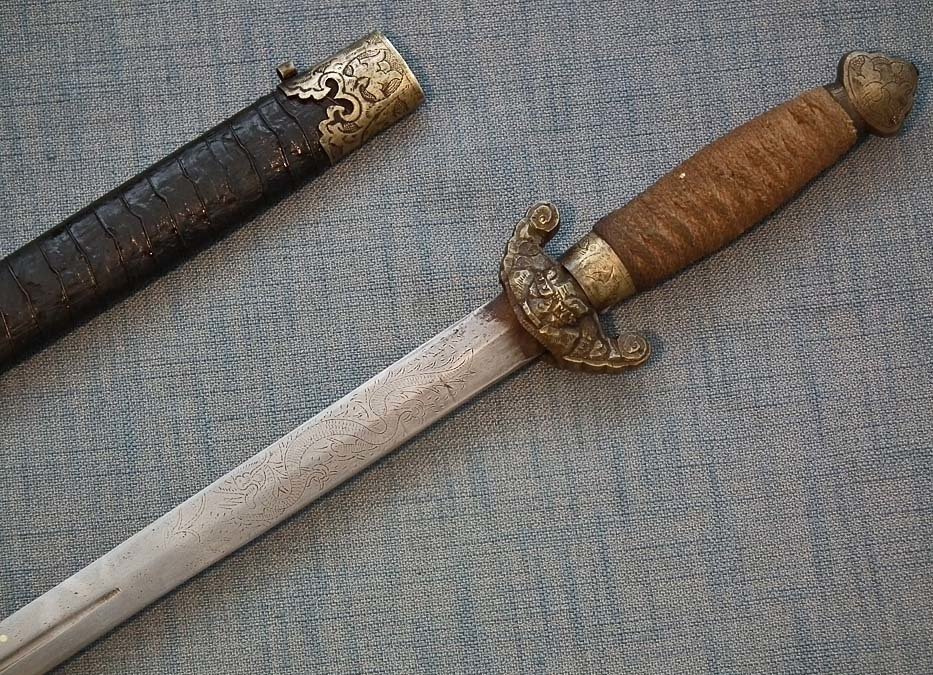 SOLD Antique 19th century, Qing Dynasty, Chinese straight sword, Jian (劍) with hand forged, Damascus still double-edged, steel blade of diamond section cut with a narrow fuller, tip with a so-called "male point" of triangular shape. The blade is further decorated with seven brass dots, representing the Big Dipper constellation, an important constellation in Taoism. The blade is chiseled on one side of the ricasso with a dragon chasing a flaming pearl, a common motif on civilian swords of the Qing Dynasty. The other side is more unusual, it is marked 勅魔 "chì mó" in a script common on Taoist charms. It translates roughly to "warding off demons by means of Taoist magic". Under that, in cursive script, is 龍泉 longquan, the famous sword making center in Zhejiang where the sword was probably made.
Hilt with brass shaped and engraved pommel and cross guard decorated with taotie zoomorphic yazi dragon mask, the wood grip wrapped with braided brown cord. In the black lacquered wooden scabbard bound in wire, mounted with a shaped and engraved brass locket with suspension loop and the chape.

REFERENCES: Iron and Steel Swords of China" by Alex J. Huangfu.

CONDITION: Showing the age and usage, nicks on the edges, and scratches on the surface, Damascus steel pattern on the blade poorly visible. All of this is an aspect from an antique sword that is over 100 years old.

MEASUREMENTS:
Overall length of the sword sheathed in the scabbard: 101 cm (39.76 inches).
Overall length without the scabbard: 94 cm (37.01 inches).
length of the blade: 75 cm (29.53 inches).
Width at the forte: 2.9 cm (1.14 inches).
Weight with the scabbard: 900 grams