SOLD Antique British WWI George V Scottish Officer Sword With Masonic Symbols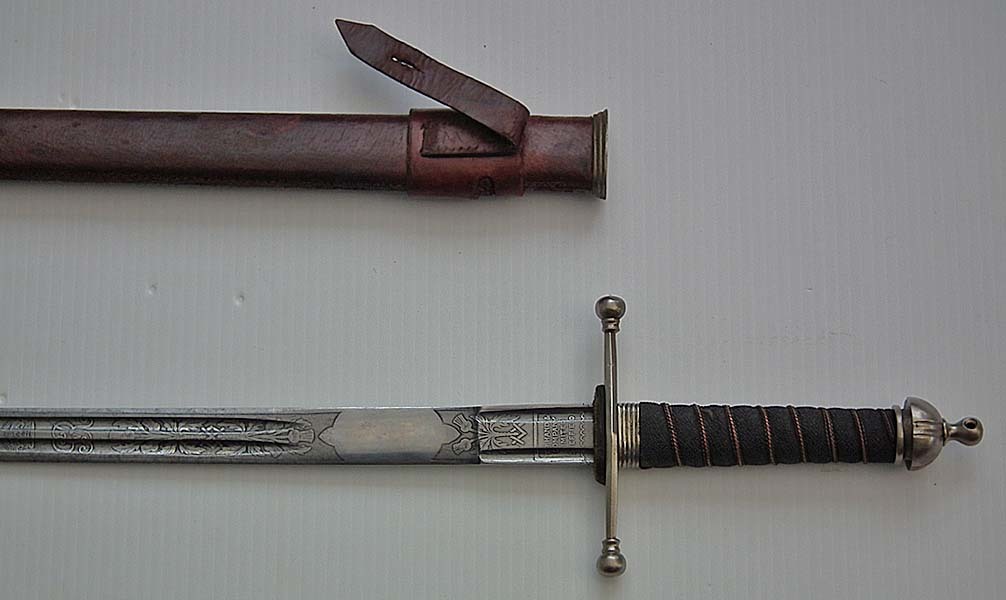 SOLD A very unusual Antique, early 20th century, circa 1900 A.D. – World War I era, George V Scottish Officer's Cross – Hilted Broadsword, with masonic symbols. Straight broadsword style double edged blade with double central fuller and spear point, and two short fullers in the ricasso. The blade nicely etched with crowned Royal arms and crowned 'GRV' Royal Cipher for George V, bordered by Scottish thistle. Ricasso etched with star of David stamped on the center " proved" with the Scottish thistles and stylized Masonic Square and Compass above, the other side etched: T.R. HAND & COMPANY LIMITED SHEFFIELD with the Scottish thistles and stylized Masonic Square and Compass above. Fitted with the regulation, cross-hilt of the pattern associated with the Seaforth and Argyll and Sutherland Highlanders. A spirally-grooved, shark skin covered grip, bound with finely twisted copper wires and domed pommel. In its original leather covered, field service, wood scabbard with ball end chape and metal mouthpiece.
The masonic symbols incorporated to the etching on the blade make this sword a rarity among other Scottish broadswords, since they were customarily ordered and engraved for the officer who was a member of the Ancient and Accepted Scottish Rite of Freemasonry.
CONDITION: The sword is in good condition considering its age, signs of usage and wear minor pitting towards the tip of the blade, some areas of tear and wear in the leather of the scabbard, mostly on the spine and the bottom part.
MEASUREMENTS: Overall length of the sword sheathed in the scabbard:108 cm (42 1/2 in). Overall length without the scabbard: 101 cm (39 3/4 in). Length of the blade: 83.7 cm (32 5/8 in).
REFERENCES:
1. Swords of the British Army: The Regulation Patterns, 1788 to 1914: by Brian Robson.
2. British Military Swords 1786-1912 the Regulation Patterns by Harvey Withers