SOLD Antique 19th century Mongolian Chinese Dagger Sword In Jeweled Silver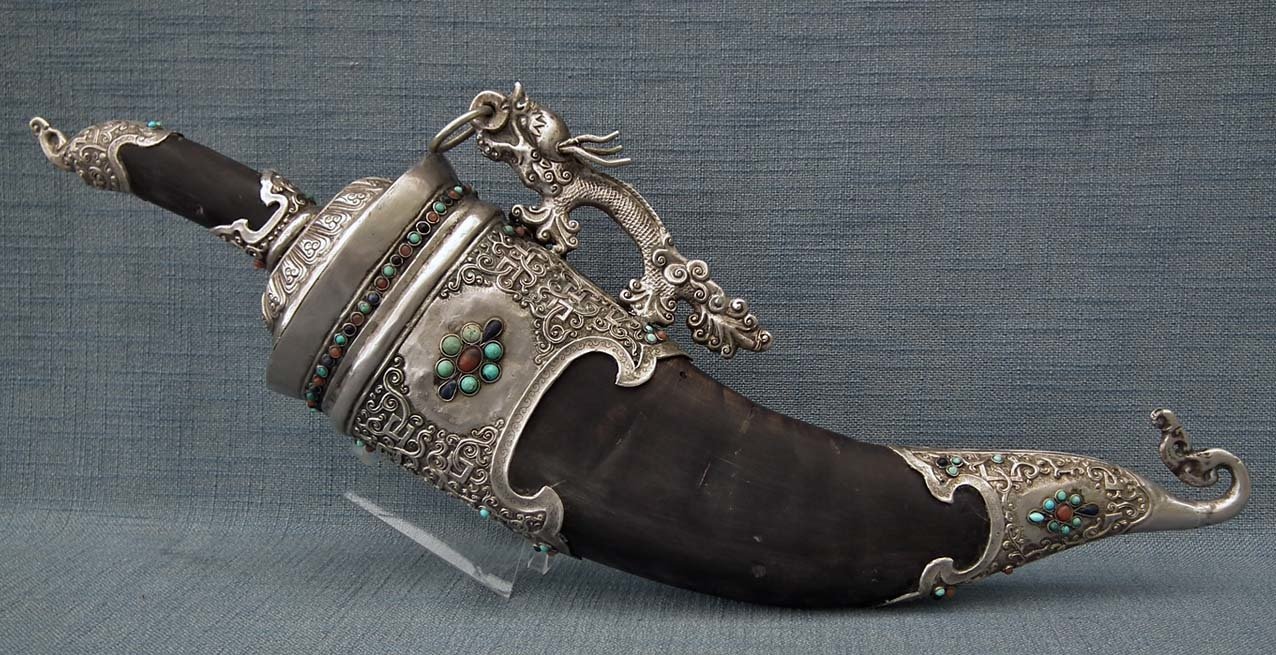 SOLD Antique 19th century ceremonial Mongolian - Chinese Nobleman short sword or large dagger with jeweled silver mounting. A slightly curved single-edged hand forged sturdy steel blade with a narrow fuller, a hilt comprising horn grip, large shaped ovoidal, domed crossguard embossed and finely chiseled with petals, ferule and the pommel with the finial in the shape of stylized elephant's trunk embossed and chiseled with scrolls and inset with agate and turquoise. The horn scabbard mounted with a large locket, shaped and superbly chiseled in the interlocking pattern against a pricking ground and applied with settings of various sizes and shape agate, turquoise and lapis lazuli stones. The suspension mount is in the form of mythical Chi-long horned dragon with a flaming pearl in the jaws, fitted with carrying ring.
Elaborately shaped chape with the finial in the shape of stylized mythical creature, finely chiseled in interlinking pattern en suite with the locked and applied with settings of various sizes and shape natural corals, turquoise and lapis lazuli (130 stones in total).
REFERENCES: Comparable Mongolian dagger is published in the Christie's London catalogue: Islamic, Indian and Southeast Asian Manuscripts, Miniatures And Works Of Art 16 Jun 1987 lot 258, at a price of GBP 1,000-1,500. (30 years ago, when the British Pound rate to US Dollar was 1 GBP = 1.63 USD). So, the price in US dollars was $1630- $2445. Please see the last photo in the listing.

The buyer will be provided with a copy of the page from the mentioned reference together with a certificate of authenticity.

MEASUREMENTS: Overall length in the scabbard: 52.5 cm (20.67 inches)

CONDITION: Age and usage is showing; silver mounting with patina the steel blade is slightly pitted, minor splits on the rim joining the top of the locket plate with the sides, some natural flaws in the horn as common in these types of the horn.

Please notice that the pictures in the listing are part of the description of the condition of the object.