SOLD Antique 18th Century Russian Hussar Sword With 17th century Crimean Tatar Czeczuga Ordynka Blade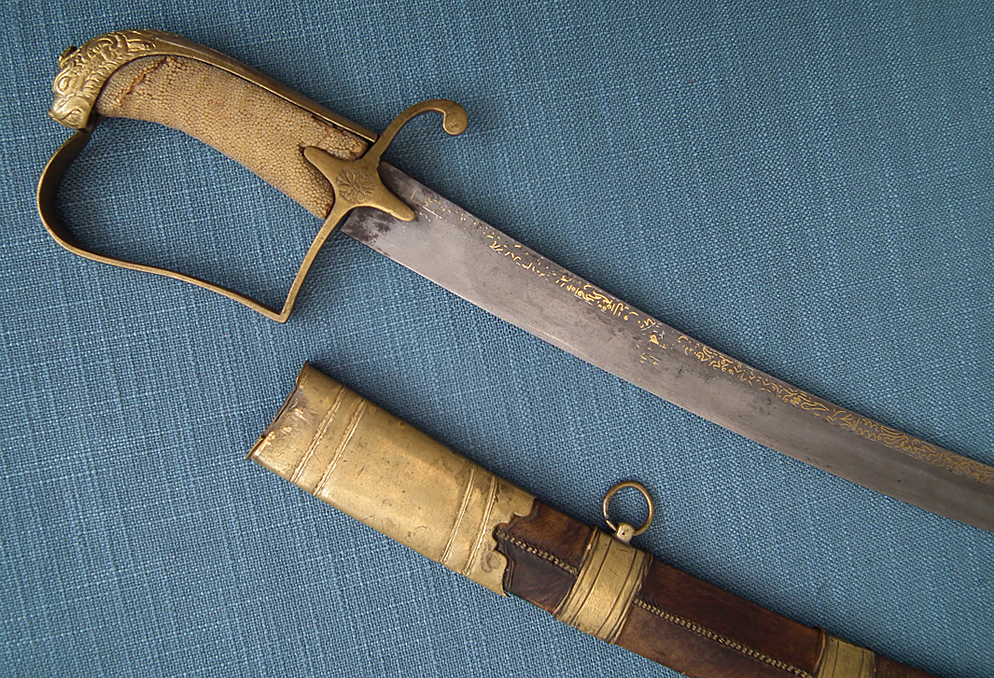 SOLD Extremely Rare Antique, from the second half of the 18th century, Imperial Russian hussar officers' sword (period of Empress Catherine II of Russia) with a 17th century Crimean Tatar "Czeczuga", "Ordynka" sabre blade.
DETAILS: A gold gild brass stirrup hilt of typical Russian hussar form with a solid knuckle bow with a pair of langets, downbend rear quillon, and a fluted back-strap rising up to form a maned lion head pommel, with a rounded button finial and wooden grip with its original white sharkskin bounding. A broad slightly curved single-edged blade, double-edged toward the point, made of Damascus steel with watered pattern; the outer side of the blade decorated along the spine with a gold inlayed long inscription within a silver inlaid margin. The ricasso of the inner side of the blade decorated with silver inlaid cartouche. The sword comes with its original leather-bound wooden scabbard stitched with spiral brass wire with large shaped brass mounts.

A Tatar sword with almost identical shaped blade and identically gold inlaid blade is in the collection of the Kornik Castle museum Poland and is published in the following references.

"Bron i uzbrojenie Tatarow" (Tartar arms and armour) by Jacek Gutowski
"Szabla wschodnia i jej typy narodowe" by Czesław Jarnuszkiewicz

Please see the picture attached to the listing:


To view it online please see the link below, the sword in the middle in the picture.
http://www.kitabhona.org.ua/libwar_armor/checuga/04.jpg

CONDITION: This sword is in good original condition considering its age to be over 200 years showing its age and usage. Some wear to the gold writhing on the blade, the gold gilding on the brass hilt, and the brass scabbard fittings is mostly worn-out. The sharkskin bounding is with minor cracks and chips. One of the suspension rings is missing. No repairs or replacements.
MEASUREMENTS
Overall length with the scabbard: 93.5 cm (36.81 inches)
Overall length without the scabbard: 92 cm (36.22 inches)
Length of the blade: 78.5 cm (30.91 inches)



REFERENCES
This is very rare 18th century museum quality Russian sabre, two similar swords to this one can be found on display in the most important Russian Museum known as the State Hermitage Museum in Saint Petersburg Russia. This two 18th century Russian hussar officers' swords with similar a brass hilt and white sharkskin bounding are published in the book "Fine Arms from Tula: Firearms and Edged Weapons in The Hermitage Museum" by Valentin Mavrodin (pages 88 & 98). Please see the pictures attached to the listing. Another similar 18th century Russian hussar officer sword is published in the book Russian Edged Weapons by Alexander Kulinsky .2005 (pages 150-151).

We will also provide the buyer with photocopies of the page from the mentioned reference together with a certificate of authenticity.

19th century and early 20th century Russian military swords were made in large number for the army by state arms factories and are not as rare as Russian 18th century swords. Many 18th century Russian officers' swords from the period of Empress Catherine II has the blade made in Tula. However, this sword is a unique example of authentic 18th century custom made swords for Russian hussar officers with very rare 17th century Crimean Tatar "Czeczuga", "Ordynka" sabre blade mounted in gold gild brass mounting white sharkskin grip.

A similar sword published in his book, Russian Edged Weapons by Alexander Kulinsky 2005 (pages 150-151, No. 76), has an old Turkish blade, in description of the sword on the page 113, author informs that some of these pattern swords have been mounted with Tatars, Turkish, and Persian sword blades were high priced in Russia, and due to its high cost they were only affordable for the members of high rank Russian nobilities.

There are only a few examples of these rare 18th century Russian hussar sabres that are preserved in Russian museums.

Being over 40 years in the antique business, for the first time we were fortunate to acquire such a rare sword Russian sword. This particular sword we had obtained together with other rare eastern European antiques, including antique Polish, Hungarian, and related Eastern European arms and armour from an old Canadian collection.

To find an authentic antique 18th century Russian sabre in the present outside museums is almost impossible, so this is a once in a lifetime opportunity for a collector of high-end swords to acquire this rare sabre.

Due to the fact that the market is flooded by reproductions of Russian swords, which for inexperienced collectors look the same as the authentic artifacts, we would like to inform our clients that this is a 100% authentic antique sword, and is accompanied by a Certificate of Authenticity.