SOLD Antique 17-18th century Ukrainian Cossack Hetman Mace Bulava Perhaps Belonged To Hetman Mazepa Or Hetman Orlyk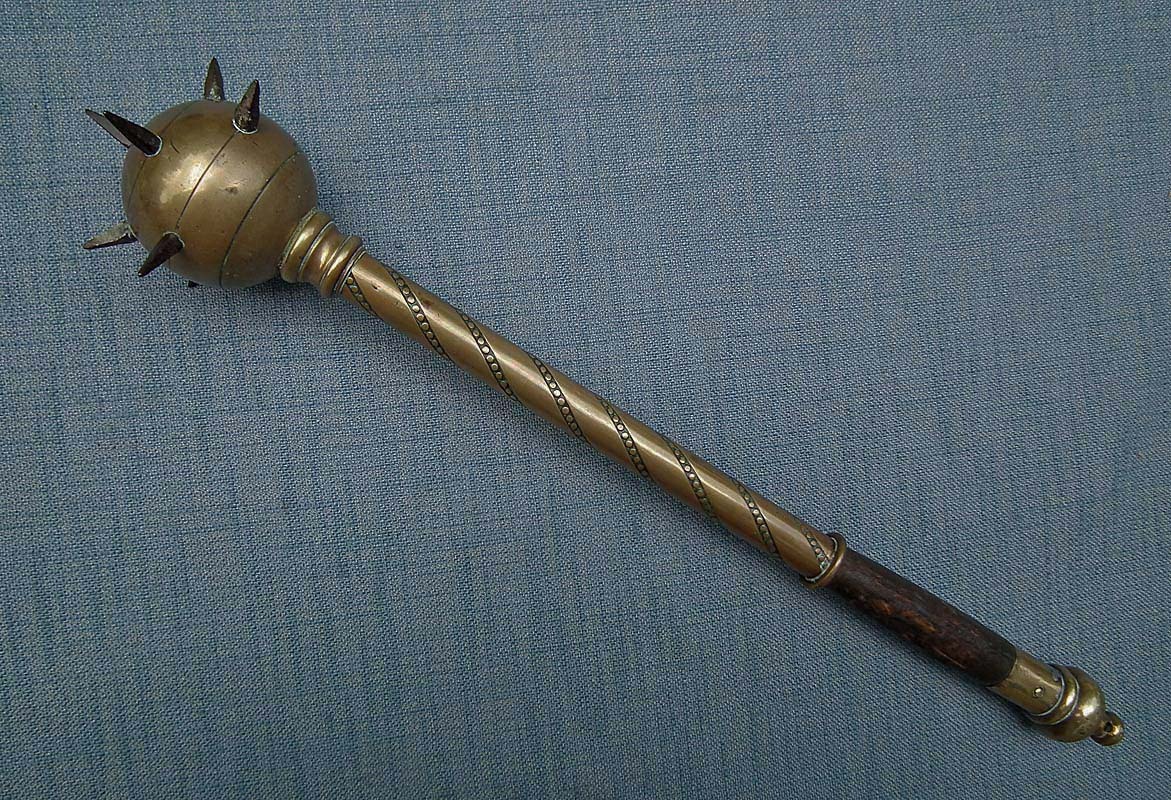 SOLD Very Rare Authentic Antique late 17th - early 18th century Eastern European Ukrainian, Zaporozhian Cossack Hetman combat, spiked Mace, Field-Combat Bulava (Булава мала). Bulawa, Bulawa. This type of spiked mace was used in 17th -18th century by Ukrainian Cossack chef commanders, Hetmans as a symbol of power and authority. It is possible that this Bulava mace originally belonged to the Hetman Ivan Mazepa or Hetman Pylyp Orlyk.

Composed of several separate elements including a solid brass head of globular form, hollow inside. Surface ornamented with four carved concentric circles and set with eight inserted faceted iron spikes of square section all around its circumference with a further nine spike to the top. The brass socket is chiseled with swivel armament formed of continued beads pattern, rounded. The wood handle retaining its original fabric wrap which originally was crimson red but now is brown. Brass tubular collar with turban shape finial pierced with hole for suspension rope.

The iron spikes are inserted to the brass head by threaded bolts. I was able to remove the one of the spikes and took pictures were you clearly see that the thread is not regularly handmade in the same way as on threads of the screws in old 17th-18th century pistols. Furthermore, the deposit of polishing substance is also on the screw and on the threaded hole of the head which had gotten there through the gaps when the Bulava was polished in past by semi-liquid polishing substance possibly a chalk. Please see the pictures attached to the listing.

From various types of maces, the spiked mace is associated with Ukrainian Hetmans attribute of authority and power as can be seen on many 17th-18th century portraits of Ukrainian Hetmans depicting them holding a spiked mace as a symbol of Hetman's authority and power.

Ukrainian Hetmans bulava comes in two versions, an ornate ceremonial Bulova gold and a silver inlaid and adorned with jewels, and not so fancy, Field-Combat Bulava (Булава мала). Please see the link below. This particular one is a field-combat Bulava.

http://enotti.com.ua/kozacki-klejnodi-%D1%97x-viglyad-ta-priznachennya-ch-1/

REFERENCES:
Украина- козацька держава by Володимир Недяк. (Ukrainian Cossack state by Volodymyr Nedyak)
Browsing the internet, we found the wax figure of Hetman Mazepa in the wax museum in Kiev, where he is depicted with very similar Bulava, but without spikes and with a wood shaft obviously a replica made on the pattern of an authentic 17th-18th century Hetman Bulava.

Please see the link below
https://www.shutterstock.com/image-photo/kiev-ukraine-may-7-2018-ivan-1088462957

Another similar brass bulava with faceted iron spikes, also a replica a made on the pattern of an authentic 17th-18th century Hetman Bulava ,was presented to newly elected President of Ukraine Viktor Yushchenko, by representatives of Ukrainian Cossacks, at the meeting devoted to the Day of Unification of Ukraine on Saturday, January 22, 2005. Photo from this ceremony can be seen on Google search.

Please see the link below

https://photo.unian.info/photo/11321-viktor-yushchenko

CONDITION: In its original condition complete with all its original parts, showing age and usage, iron spikes with dark rusty patina, fabric on the wood handle worn, traces of old repair by soldering on joining the tubular collar with the turban shape finial, two spikes bear traces of rust removal by a file.

Some deposit of old polishing substance around the rusty iron spikes and in carved decorative ornaments.
Please see the pictures in the listing since they are part of the description of the condition of the object.

MEASUREMENTS:

Overall length including central spike: 49 cm (19.29 inches)
Width of the head including spikes at the widest point: 10.1 cm (3.98 inches)
WEIGHT: 650 grams (22.928 oz)

This is a very rare museum quality mace, we have been over 45 years in the antique business and this is the first time we were fortunate enough to acquire such a rare mace, and we have never seen for sale.

Because these types of maces were custom made in only single example for specific Ukrainian Cossacks Hetmans, I believe that this is only one, world known, existing this type of Ukrainian Cossack Spiked Mace.

PROVENANCE:

We have acquired this mace together with other arms and armour, including antique eastern European arms and armour from an old Canadian collection.

Please see the last picture in the listing where this mace is displayed together with other maces and are also in this collection.

The picture was taken when purchasing this rare mace from this collection. We are in the process of negotiating the purchase of other maces from this collection.

Accompanied by a certificate of authenticity