SOLD Antique Polish Hussar Lobster Tail Helmet Zischägge 17th Century Poland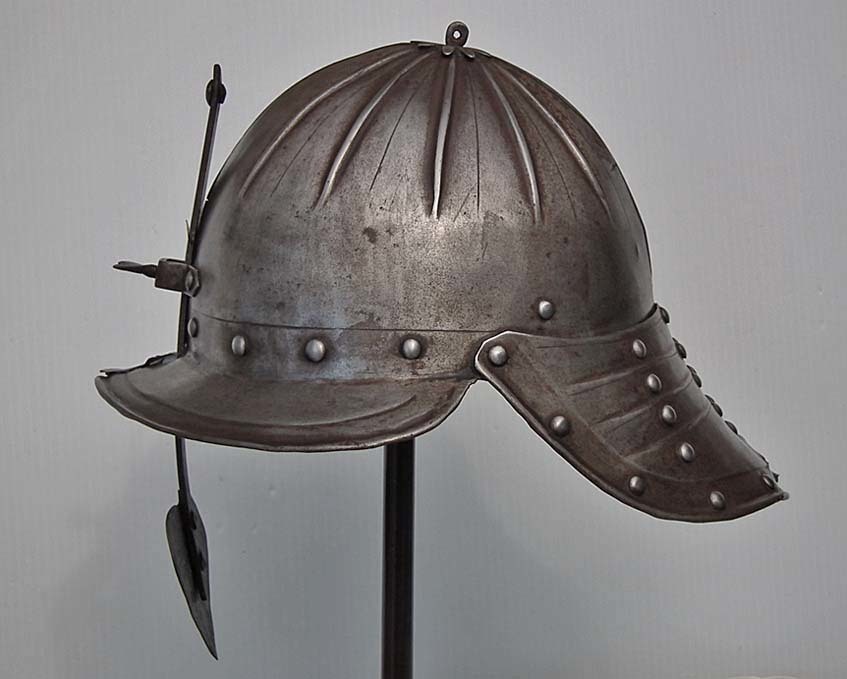 SOLD A rare antique 17th century ca. 1600–1650. Polish Hussar's Lobster tail helmet Zischägge: The hemispherical skull is formed in two pieces joined medially by rivets and decorated with a pattern of raised ribs and twelve incised lines radiating from a pierced finial on a star shaped washer. The peak integral with the skull is struck at the front with an illegible letter "R", and accommodating at its rear is a sliding nasal-bar with a heart-shaped terminal secured at the brow by a rectangular staple; the nasal-bar has a heart shaped head locking screw with a neck guard riveted to the skull and is made from a single piece of steel. The neck guard is embossed to simulate four lames decorated with patterns of round- headed rivets. The helmet's interior is painted in black.
For the 150 years from the second half of the 16th century to the early 18th century Polish, winged hussars used different styles of the szyszak helmets made by various armorers' marks. There was not a strict pattern as in the modern armies which must be followed to look exactly identical, however, most of them were made in the type known as Lobster tail helmets or Zischägge. Some of these helmets were made for high ranking officers as luxurious helmets, decorated with brass and embellished with precious stones, but most of them were made as the simple 'troopers' helmets .
Provenance: Acquired from an important collection of Polish antiques, including Polish arms and armour. We had attached to the listing a picture of the Polish hussar helmets in this collection which we had taken at the time of the purchasing of this collection, showing this helmet together with other polish szyszaks: the second helmet from the right.

REFERENCES: A very similar helmet to this one described as an early 17th is published in the book "Antique Arms and Armor" by Frederick Wilkinson, page 165 Picture.A.18. Please see the pictures attached to the listing.


CONDITION: Signs of usage and wear; the bottom edge of the neck-guard is damaged, the pick split on the riveted joint, two ribs on the skull worn out thru. All of this can be an aspect from an old combat helmet that is over 350 years old.

MEASUREMENTS:
OVERALL LENGTH (from the pointed peak to the end of the neck guard): 34 cm (13.39 inches).

HEIGHT (from the top of the finial to the end of the neck guard): 24 cm (9.45 inches).

WEIGHT: 966 Grams. (2.13 pounds)