SOLD Ancient Scythians Bronze Fibula Deer Brooch 6th-4th century BC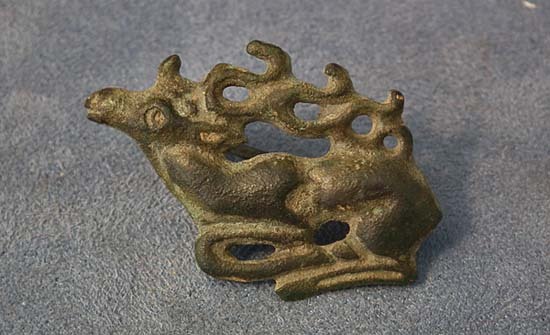 SOLD Ancient Scythians bronze fibula in the shape of a deer 6th-4th century B.C.
DETAILS: Openwork bronze depicting a seated deer with slender body, the head with large antlers, outstretched neck and pronounced musculature, the legs folded beneath the body, the reverse with it's original clasp for attachment.
REFERENCES:
1) The Golden Deer of Eurasia Scythian and Sarmatian Treasures from the Russian Steppes.
2) From the Lands of the Scythians: Ancient Treasures from Museums of U.S.S.R., 3000-100 B.C.
3) Ancient Bronzes of the Eastern Eurasian Steppes by Emma C. Bunker.
4) Scythian Art: Crafts of the Early Eurasian Nomads, by Georges Charriere.
MEASUREMENTS: Length: 4 cm (1.57 in).
CONDITION: In its original condition, showing the age and usage, with a dark green patina.