Antique SOLD Islamic Maghreb North African Tuareg Berber Necklace Silver & Glass Beads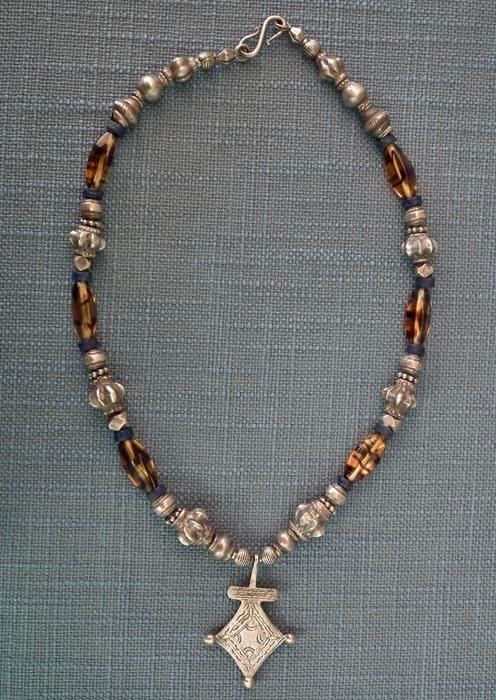 SOLD Antique, Islamic Maghreb - Northern Africa, Tuareg or Berber, necklace composed of 37 silver beads of various size and shape, 6 Bohemian tortoise amber translucent glass beads and 12 cobalt blue glass beads. The center adorned with an engraved silver protective talisman pendant, Teneghelt – Agadez.

MEASUREMENTS: Approximately:

Overall length in the single string from end to end: 46.2 cm 18.19 (inches).

Overall length in the double string including pendant: 27 cm (10.63 inches).

Height of the silver Pendant: 4.8cm (1.89 inches).

CONDITION: In its original condition with a rich dark patina intact and mild natural wear from usage in exposed areas. We had left the patina on the silver. But if someone wants to use this Necklace as the personal jeweler, it is very easy to clean up the patina on the surface of the silver. It is possible that these antique beads had been restrung later.