Antique SOLD 19th Century Embroidery Hand Embroidered American Eagle With Motto E Pluribus Unum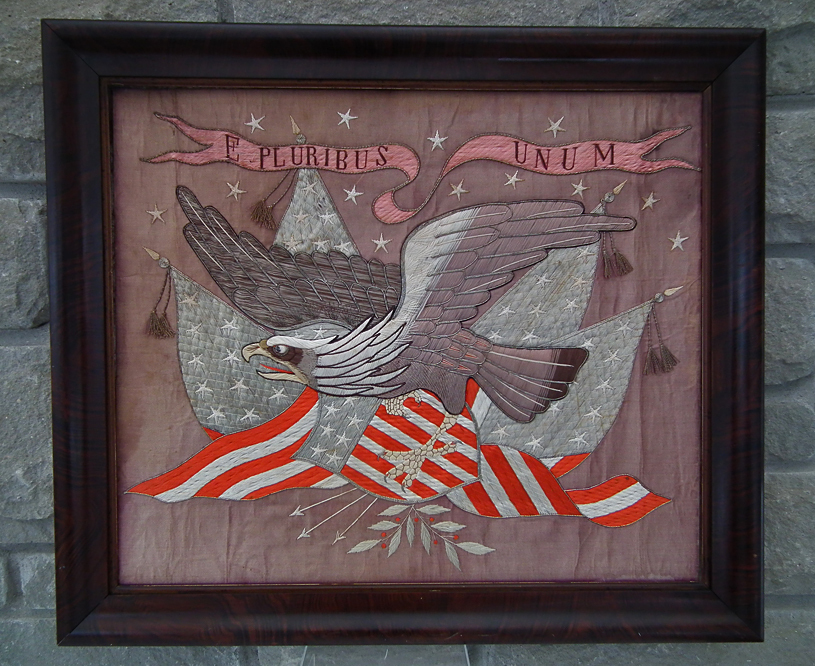 SOLD Antique Embroidery art silk panel of the second half of the 19th century depicting finely hand embroidered in low relief an American bald eagle clutching a Federal shield placed before crossed American flags, and the banner with the motto "E Pluribus Unum" above, the whole highlighted with silver bullion threads. With its original cardboard backing and wooden frame.
CONDITION: Faded, some wear/stains from use and age. The old frame is with some scratches as it is common in old frames.
Colors may differ slightly with items in pictures, due to lighting conditions, and color settings of different computers.
All items sold are used antiques, and are not perfect or new.

MEASUREMENTS:

Dimensions with the frame: 68.5 cm x 59.5 cm (26.97 inches x 23.43 inches)
Dimensions of the panel: 57.5 cm x 48.5 cm (22.64 inches x 19.09 inches)